Apple hit by iTunes, App Store and iCloud faults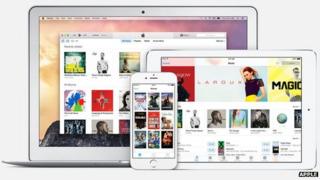 Apple has suffered a fault that struck several of its online services.
The tech company's iOS App Store, Mac App Store, iTunes music and video marketplace and iBooks shop are all refused to allow users to download new material or update existing files.
According to its status page, the problem affected users worldwide for more than 11 hours.
Users were also unable to access email and documents stored on the Apple's iCloud facility for four hours.
A spokesman indicated that the problem had been caused by the firm's own engineers.
"We apologise to our customers experiencing problems with iTunes and other services this morning," he said.
"The cause was an internal DNS [domain name system] error at Apple. We're working to make all of the services available to customers as soon as possible, and we thank everyone for their patience."
A DNS error refers to a fault in the phone book-like system that is used to marry up a domain name - such as https://itunes.apple.com.... - to a string of numbers known as an IP address, used by networking equipment to send and receive data.
Apple's website said the problems had begun a little while before 09:00 GMT and ended shortly after 20:00 GMT.
Other products affected include its iTunes Connect and Testflight tools, used by developers to submit apps and control others' access to their products.
According to Apple's financial statements, its online media stores generated a total of $2.6bn (£1.7bn) of sales over the last three months of 2015.
That represents $1.2m an hour, giving an indication of the scale of the potential lost sales shared by publishers and Apple itself.
The news comes in the same week Apple released an update to its iOS operating system and unveiled products, including a new laptop and smartwatch, in San Francisco.
Apple confirmed that the fault was not related to the iOS upgrade.