Ted 2015: Prize winner to create digital voice archive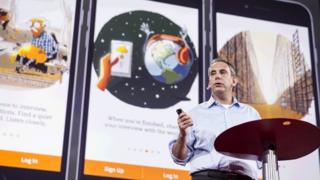 A radio broadcaster who has spent a decade collecting the conversations of ordinary people intends to make the project digital, thanks to a $1m prize.
Each year Ted (Technology, Entertainment and Design) awards the prize to someone working on a project with a global impact.
Dave Isay has spent the money on a smartphone app that will allow anyone to contribute conversations.
He hopes to create an "archive of the wisdom of humanity".
Mr Isay was originally a radio documentary maker, and he formed StoryCorps in 2003.
Describing it as a "crazy idea", he said the aim was to collect and preserve the conversations of ordinary Americans.
He set up a booth in Grand Central Station in New York where two people are invited in to have a conversation.
Since then the project has added mobile booths and three other fixed ones.
It has collated the conversations of 110,000 Americans - with some of the best recordings making it to air on US national public radio station NPR.
Mr Isay described it as the "largest archive of voices ever gathered".
Global voices
Now he wants to make the project global and digital.
The app allows people to record interviews with someone whose story they wish to preserve, whether that be a stranger, a family member or friend.
The app is simple to use and comes with tips about how to create a good interview.
People can choose to save the conversation just for themselves or upload it to the StoryCorps website.
Copies sent to StoryCorps will also be sent to the US Library of Congress to save as an oral history of people's lives.
During his speech at the Ted conference in Vancouver, Mr Isay played excerpts from some of the conversations he has collected over the past decade.
They included an elderly man explaining to his wife why he loved her and a moving conversation between a mother and her autistic son.
Mr Isay hopes that he can create special events with the app, including a day each year when children record a conversation with an elderly relative.
He also hoped people would record the voices of people not often heard - from nursing homes or prisons, for instance.
He spoke of his ambition for the StoryCorps app "to help create a world where we listen closely to each other and recognise the beauty, grace and poetry in the lives and stories we find all around us".
He added: "The act of honouring a loved one (or a stranger) in this way can help us recognise all that we share in common as human beings, and remind us that every life matters equally and infinitely."
The free app is available on both Android and iPhone. It is currently only available in English, but StoryCorps is looking into making it available in other languages.