Anti-censorship China activists 'under DDoS attack'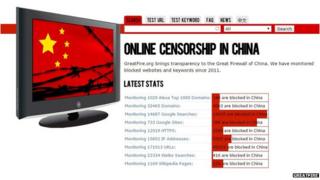 A campaign organisation that circumvents Chinese website blocks has said it has come under distributed denial of service attack (DDoS).
Greatfire called the attack, which aimed to take sites offline, an attempt to enforce censorship.
It said it did not know who was behind it, but pointed out that it coincided with pressure from Chinese authorities.
One expert called the attack "censorship by brute force", saying it could put Greatfire out of business.
Greatfire has tracked which sites are blocked in China and recently began offering a mirroring service to try to restore them for Chinese users.
Protection
Similar to the campaign started by Reporters Without Borders last week, it set up content distribution networks (CDNs) using the same hosting services as many entities on which China relies.
Those networks created copies of banned websites and made them available to Chinese users.
In theory, the method provided protection to Greatfire because, to be sure that the blocked websites remained inaccessible, attackers would have to take down the whole hosting service - including many sites that China wanted to remain live.
However, in practice, the attackers managed to find the individual URLs of the sites the authorities sought to block - which are normally masked - and bombarded them, in a more targeted attack, said Prof Alan Woodward of the University of Surrey.
'Attack'
"It is difficult not to conclude that someone, most likely a government annoyed that Greatfire has enabled previously censored websites to neuter their censoring technology, has decided to fight back," he told the BBC.
He added that keeping the sites online would require the purchase of more bandwidth, adding that he consequently believed the Chinese authorities wanted to put financial pressure on Greatfire.
"The big question will be whether the big companies that run the CDNs... will actually key the charges Greatfire is being forced to incur, or whether they believe the censorship avoiding method should be supported when under attack in this way."
'Help'
In a statement published on its website, Greatfire said the attacks started on 17 March and "we are receiving up to 2.6 billion requests per hour which is about 2,500 times more than normal levels".
It said: "We are under attack and we need help.
"Likely in response to a recent story in the Wall Street Journal (WSJ), we've experienced our first ever distributed denial of service (DDoS) attack.
"This tactic is used to bring down web pages by flooding them with lots of requests - at the time of writing they number 2.6 billion requests per hour. Websites are not equipped to handle that kind of volume so they usually 'break' and go offline."
'Anti-China'
"We don't know who is behind this attack. However, the attack coincides with increased pressure on our organisation over the last few months.
"The Cyberspace Administration of China (CAC) publicly called us 'an anti-China website set up by an overseas anti-China organisation'."
The BBC was not able to verify the identity of the alleged attacker.
A spokesman for the Chinese embassy in London did not respond to a request for comment.