'Blast-proof' wallpaper developed by US Army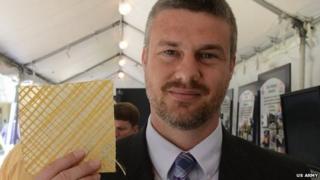 "Blast-proof" wallpaper that could protect soldiers from explosions is being developed by the US army.
Rolls of lightweight sticky wallpaper, lined with tough Kevlar fibres, could be carried by troops to reinforce the walls of temporary buildings.
The lining reduces the amount of debris sent flying at the occupants of a building in the event of an explosion.
A prototype was displayed at an exhibition of army innovations held at the Pentagon on Thursday.
"The idea of coating the inside of structures to reduce the danger of [debris] to occupants is not new," said Justin Bronk, research analyst at the Royal United Services Institute.
"What appears relatively new about this ballistic wallpaper is that it can be quickly and easily applied by non-specialised units at short notice. This provides significant potential tactical advantages."
The ballistic wallpaper was displayed at the first Department of Defense Lab Day among 100 innovations from US Army engineers.
Nick Boone from the US Army Corps of Engineers said he hoped ballistic wallpaper would save lives.