Egyptian repairman outranks Google in search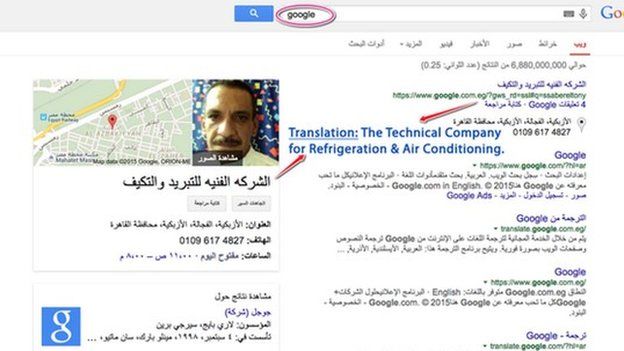 An Egyptian repairman has found unexpected fame as one of the most searched-for men in his country.
For a time, anyone typing Google into Google from an Egyptian computer got a page belonging to Mr Saber El-Toony as the first result despite the fact that his business doesn't include the keyword and is in no way related.
His Google Plus page has received more than five million views.
Google said it was looking into the issue which appears to have been fixed.
He contacted Mr El-Toony who said that he had not done anything to promote his page.
In fact, other than a vast increase in the number of phone calls he had received, he seemed unaware of his new high ranking.
"So people think I am the 'mother company' of Google? That is great." he told Mr Nour.
So-called search engine optimisation (SEO) has become big business in recent years as firms, big and small, attempt to acquire a higher profile on search engine lists.
There are many tricks that firms can employ to increase their rankings and SEO firms offer a range of services, including real-time monitoring of search engine algorithms, keyword optimisation and finding out the best links that will move firms up the rankings.
Some things though should not be possible, writes Mr Nour.
"Nobody should be able to outrank Google for their own name on their own search engine."
The only explanation he could find was that Mr El-Toony had entered a Google search results page for his username "ssabereltony" into the website field on his Google Plus page.
If that turns out to be the explanation for his number-one ranking it suggests "all you have to do to outrank Google itself is to change the website URL in your Google Plus profile", he said.
Oliver Ewbank from search engine optimisation firm Koozai told the BBC: "Google Plus profiles tend to rank well in search results, but never on this scale.
"The main link between this listing and the keyword Google is the fact that Mr El-Toony entered a Google Search for his Twitter handle in the website URL field. This Google URL field seems to have caused the search engine to think the profile is a relevant search result.
"From Mr El-Toony's perspective, this was a happy accident; for Google this was a mistake. As Google pride themselves on relevance they will want to make sure this does not happen again.'
Related Internet Links
The BBC is not responsible for the content of external sites.