The search for a rival to Google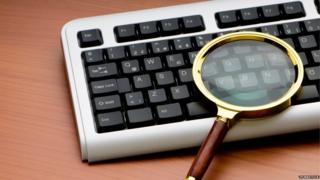 For more than a decade, internet search and Google have been synonymous.
Yes, there are other search engines but for the majority of internet users, to search is to Google. Now, though, there are signs of a threat to to the Californian firm's hegemony.
It comes first from two other Californian tech superpowers. The most significant news out of Apple's WWDC keynote last Monday may not have been the arrival of the music-streaming service but upgrades to the way its users can search their iPhones and computers.
The firm made clear that Spotlight, once used just to search the files on your Mac's hard disk, would now roam further and wider.
Content from third party apps would be searchable and would also be available to Siri, the voice-activated personal assistant that started clunky but is getting more sophisticated.
The result could be that internet users will spend more time on their iPhones inside Apple's walled garden, less with Google. Facebook has similar ambitions and its 1.4 billion users are already spending long periods within the network rather than heading elsewhere via Google searches.
What's surprising is how little work Facebook has done so far to give its audience a clever way of searching the vast amount of content they themselves produce.
But that's where a tiny Israeli firm comes in with another challenge to Google. Mobli Media's claim that it is "reinventing search with the first visual search engine for user generated content" looks bold.
But when I was given a demo of that new search engine - EyeIn - the results were impressive, delivering far more than similar searches in Google Images.
EyeIn, which has just gone live, searches for images and videos generated by millions of social media users on sites like Facebook, Instagram and Twitter.
This is a huge untapped resource, according to Mobli's founder Moshe Hogeg:"The crowd is capturing everything but it is not findable."
When, for instance, you search for BBC Broadcasting House on Google you get lots of very nice professional images of the building. But when you use EyeIn, which allows you to search by place and date, you get a stream of videos and stills uploaded by social media users with time and location data stamped in.
Videos of a high wire stunt filmed for the One Show - and captured by passers-by - are among the material which pops up.
The Israeli firm says it has access to sites like Facebook and Instagram which Google's search engine is unable to crawl because Mark Zuckerberg's firm sees it as a search rival. And Mobli's Chief Operating Officer Ido Sadeh says EyeIn has another advantage over the search giant: "Our engine is not about what people said about the photo - it's about location - our engine understands more about more."
Sinister possibilities
It does open up some intriguing, perhaps even sinister, possibilities. In theory, the technology would allow the police instant access to any photo or video uploaded near a crime scene.
So a search for all images taken in the vicinity of London's Hatton Garden on a certain date might help identify suspects in a jewellery raid - especially if you could then build in facial recognition.
As this technology develops, there will be more opportunities for companies and governments to track us.
As individuals, we may not choose to post photos showing our every move - but it will become difficult to avoid being caught in the sights of other people's smartphones. Right now this mountain of material is full of noise and confusion but it is also potentially a goldmine for search, and one which EyeIn hopes to exploit.
What is surprising about search, according to Mobli's Moshe Hogeg, is how little innovation there has been since Google changed everything: "The search industry hasn't been innovative for years. You don't see a lot of competition except from other giants, you don't see innovation from start-ups."
The Israeli firm hopes to change that, and with Google's giant rivals finally beginning to up their game, the search landscape may be about to see radical change.
That would please consumer groups and the competition regulators, but should make us all more cautious about what we put online.
Curious employers, anxious parents and law enforcement agencies are likely to find it a lot easier to comb the internet and find out things we might prefer to stay hidden.