Uber operating at big losses, suggests document leak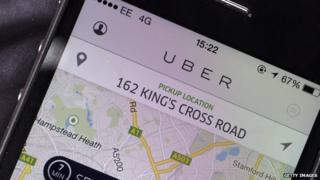 Financial documents, allegedly from car-share start-up Uber, suggest the firm is running at losses of several million dollars each quarter.
Images of the figures were published online by the website Gawker.
They show operating losses of more than $100m (£65m) in the second quarter of 2014, albeit coupled with steady growth in revenue.
In a statement, the company hit back at reports but did not deny them."Shock, horror, Uber makes a loss," it said.
"This is hardly news, and old news at that," it added. "It's a case of business 101: you raise money, you invest money, you grow (hopefully), you make a profit and that generates a return for investors."
The company was recently valued at $50bn and is the most-funded start-up in the world.
There has long been speculation over the health of Uber's profit to loss ratio, a subject on which the company has never officially detailed the sums.
Positive note
One positive note to emerge was the fact that the company increased its cash holdings from $263m in 2013 to over $1bn the following year.
Uber has faced a string of difficulties this summer, including the arrest of two managers in France over allegations that the service was "illegal" there, and the imposition of a $7.3m fine in California after the company failed to provide detailed information about itself to regulators.
The car-sharing app has also been banned in a number of cities and countries around the world, including Spain, Thailand, several Indian cities and faces partial bans in Germany and the Netherlands.