Call of Duty unlocks final mission of Black Ops 3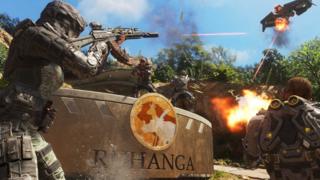 The developers behind the Call of Duty gaming series have taken the unusual step of unlocking missions from the latest version of the game, allowing people to skip to the end if they want.
The firm said it wanted to "give players the flexibility to consume the content how they want".
In an interview with Eurogamer, campaign director Jason Blundell said that having to unlock every level was "archaic".
He likened the new system to Netflix.
Users wanting to play Call of Duty: Black Ops 3 when it is released on 6 November can now get to the end of the game immediately if they want to.
"Consumers and game players in general are far more mature these days," Mr Blundell told Eurogamer.
"There are so many things vying for our interests today. It's about, how do they want to consume it? Maybe they put it down on level two, and then they're in work the next day, and some guy says, 'Dude, you've got to check out level four!' And he's like, 'OK, I'll have a quick look.' That's totally fine. I think it's their choice."
He compared it to how video on-demand service Netflix releases an entire season of shows at the same time.
"When Netflix release House of Cards and do all the episodes, does everyone just jump to the end and go and play the last episode? Sure you can. But it's about the journey, though, right?"
The game will also allow players to lend weapons to others to use in levels that they have not yet unlocked.
Mr Blundell admitted that some players would put up spoiler videos of the last level but hoped that would stimulate debate about the game.
"I think it's something that will encourage debate and engagement, rather than detract from it. And it's a reason people can play together easily, rather than excluding people. It's a more inclusive mentality."
The game is set in 2060 and covers topics such as data leaks and the ethics of human augmentation - when technology is added or implanted to the body. It was developed by Treyarch and published by Activision.