Million-dollar deal for pro-gaming team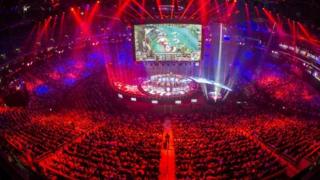 A professional League of Legends (LoL) team has been sold for a fee "close to" $1m (£625,000).
The deal involves the European LoL squad from Team Dignitas which has been sold to the Follow Esports group.
Prior to the sale, Team Dignitas had two professional League squads, one European and one North American, on its books.
However, rules for the pro-gaming LoL circuit specify that an esports group can only manage one team.
Early reports about the sale suggested the team would be sold for around $500,000 (£324,000).
However, Michael O'Dell ,general manager of Team Dignitas, said that the final deal was far higher than the early estimate.
"It was closer to $1m, I can't say the exact amount," Mr O'Dell told the BBC.
Four players, Martin "Wunderwear" Hansen, Chres "Sencux" Laursen, Kasper "Kobbe" Kobberup and Nicolai "Nisbeth" Nisbeth, transfer to Follow Esports under the deal. It is currently looking to recruit one more player to round out its squad and to employ a head coach and lead analyst to support the players.
Mr O'Dell said he had found a "great buyer" for the team who will look after its former players.
The team will be competing in the League of Legends Championships Series that sees the top 20 teams in the world battle it out for a chance to take part in the game's world championship competition.
This weekend, South Korean team SKT1 was crowned world champions at LoL after defeating Koo Tigers in the final held in Berlin.
---
An introduction to League of Legends
The video game first appeared in late 2009 and has become one of the most popular PC games in the world.
Statistics suggest 27 million people play it every day with around 7.5 million people playing it simultaneously at its peak hours of popularity.
The game pits small teams of player-controlled champions against each other on a small number of maps.
A team wins if it can destroy the heart of their rivals' base, known as the nexus, before theirs is destroyed.
Characters, called champions, travel down different routes to their opponents' base destroying turrets and minions that serve their rivals.
Some champions have swords to attack but others use ranged weapons or spells. They also have a range of abilities that get boosted as players accumulate in-game gold. They can also buy magic items to improve their health, defence, attack or spell power.
From this, relatively, simple starting point has grown a very complicated game.
The complications arise because there are now about 100 different champions that can be boosted with runes and masteries to make them more effective.
Then there are in-game extras that can be gained that can boost allies or slow opponents.
See how LoL star Enrique "xPeke" Cedeno handles the pressure