Microsoft tests underwater data centre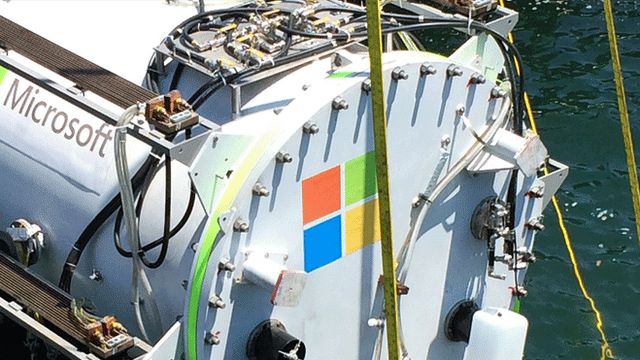 Microsoft has come up with a radical new way to store data - under the sea.
Testing of the firm's first underwater data centre - dubbed Leona Philpot after a character in an Xbox game - has just been completed in an initiative called Project Natick.
Data centres are believed to consume up to 3% of the world's electricity, according to researchers.
Large technology firms are keen to find energy efficient ways to store their increasing amounts of data.
Microsoft said its reasons for experimenting with underwater data centres were twofold.
Firstly, half the world's population is located within 125 miles (200km) of the coast so data centres in the sea would reduce latency - the time its takes data to travel from its source to customers.
But there were also environmental reasons for the trial. Putting the data centre in the ocean eliminated the need for cooling and, in future, if such centres could be colocated with offshore renewable energy sources, they could also produce zero emissions, according to Microsoft.
Its first underwater data centre operated 0.6 miles (1km) from the Californian coast from August to December 2015 and is now back at Microsoft's Redmond headquarters for analysis.
It was encased in steel and equipped with sensors to monitor the environmental conditions.
Greenpeace, which produces an annual report on how clean the the big technology firms are, believes Microsoft could do more.
"Experimental underwater data centres could be more sustainable if connected to offshore wind power, but Microsoft must focus more on investing in new renewable energy now. Microsoft is far behind Apple, Google and Facebook in sourcing renewable energy for existing data centres," said Tom Dowdall, a climate campaigner at Greenpeace.
Many tech firms are now considering new options for housing data - including moving them to countries with colder climates.
In 2013, Facebook opened a data centre in the far north of Sweden, in the mining town of Lulea, 70 miles from the Arctic Circle. The 84-acre site houses tens of thousands of computer servers and runs entirely on renewable energy generated by nearby hydroelectric schemes.