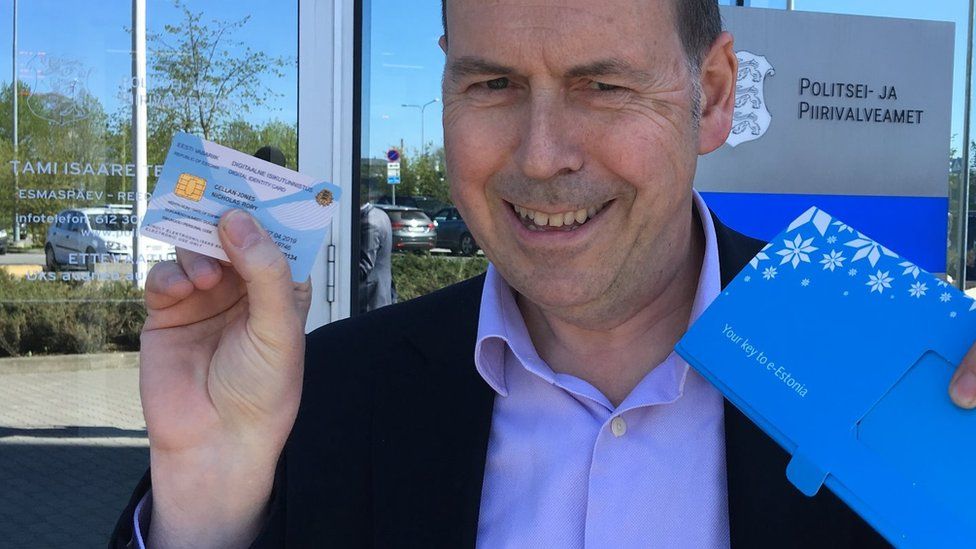 I've just acquired a whole new identity. It comes in the form of a plastic card with a chip in it, and it means that I am now a resident of Estonia. Or rather an e-resident, because this card is a symbol of Estonia's bold ambition - to export its expertise in digital identity to the wider world.
The e-Residency programme, which has already attracted 10,000 people from around the world, offers anyone who pays 100 Euros some of the benefits of the digital ID cards which Estonia's 1.3 million citizens have had for more than a decade.
I meet Kaspar Korjus, the young manager of this project, at the e-Estonia showroom in Tallinn, where the government shows foreign visitors the progress it has made down the road to digital public services. Kaspar starts by showing me his own digital ID - he's 38712012796 by the way, though that won't be useful to you without his card and two PIN numbers.
We go online to a site where he can check which data is held, linked to his ID. - his doctor, his driving licence, his family circumstances. He explains that he has control over that data and it could not be shared without his agreement. His ID card is even used for voting - "I've been travelling quite a lot - the last four times I was away but I could still vote. I use PIN 1 to confirm who I am, PIN 2 to vote."
While e-residency will not allow me to vote, or permit someone from outside the EU to travel here without a visa, it does confer a number of advantages. It makes it a lot easier to set up a business and open a bank account, and you can use the card to digitally sign documents and contracts.
This is a country which does not worry about immigration - indeed it would like more people to move here. Kaspar tells me they are put off by the weather and the remoteness of Estonia but the hope is that e-residents will boost the economy by starting businesses here without needing to move.
He quotes one example - Stanislaw, a painter from Ukraine, who was unable to sell his pictures because his country does not have the infrastructure to allow him to accept foreign payments. "PayPal will work with someone who has a business address in Estonia," says Kaspar, "but not with someone in Kiev." Now the artist has established a company in Estonia and is selling his paintings around the world while remaining in Kiev.
One obvious thought strikes me about the e-Residency program - isn't it all about avoiding tax? "It's actually the complete opposite," says Kaspar Korjus. "Every transaction is recorded, your identity is there, it's all very transparent." The expectation is that just about all e-residents will pay tax on any earnings where they are generated - in their home countries - and the Estonian government will transmit details of revenues back to local tax authorities.
Estonia hopes to benefit because of the business generated for its banking and advisory services, rather than in direct revenues. Then there is the interesting prospect of linking this digital identity service to the blockchain, the technology underlying the virtual currency Bitcoin.
One such experiment is already underway. NASDAQ, which runs the Tallinn stock exchange, is creating an e-voting scheme, allowing shareholders to vote at annual general meetings. The e-Residency platform will be used to identify voters, while the blockchain will provide a fast and secure way of recording the votes.
The e-Residency project is very much a work in progress. While it's of limited use to me at the moment, I can see my new digital identity becoming a way to authenticate myself on e-commerce sites and other places which want to know you are who you say you are.
Kaspar Korjus is convinced that this is an idea whose time has come, and countries will compete to offer this kind of virtual citizenship: "We are the first mover - there will be lots of e-Residency programmes." He has been set a target of attracting 10 million e-Estonians by 2025. That sounds ridiculously ambitious, but this tiny country has already shown that, when it comes to being digital, it can punch far above its weight.
You can hear more about my adventures in Estonia on Friday's Today Programme on Radio 4 and on Tech Tent on the BBC World Service.