Ask.fm changes hands once again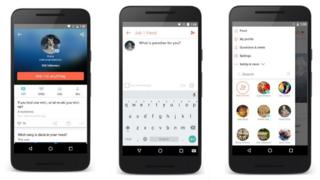 The Q&A-based social network Ask.fm is under new ownership, less than two years after it last changed hands.
IAC - the owner of the dating app Tinder - has sold the business to Noosphere, an asset management firm that specialises in tech.
Ask.fm rose to prominence in 2013, when it was linked to the suicides of several teenagers.
IAC vowed to tackle cyber-bullying, but had faced criticism for allowing its users to continue posting anonymously.
Ask.fm's Latvia-based management blogged that Noosphere was committed to keeping its 150 million members safe.
"IAC helped us get to the place we are today, but our future lies with an operator with whom our product is a more strategic fit - one who has a local presence with our team and is committed to growing our leadership position in the Riga tech landscape," they wrote.
"Noosphere is committed to remaining vigilant on safety, and ensuring the progress made to date stays core to our DNA moving forward."
Ask.fm formed a safety advisory board last year and published added guidance for its users, parents and educators, explaining how to report abuse and restrict access to profiles.
However, the charity NSPCC warned in April that 88% of 1,725 children it had surveyed said they had seen inappropriate content on the platform.
It said parents had recommended that children only use the service after they had turned 15 rather than the current limit of 13 years old.
IAC had previously said it was attracted to Ask.fm because of its growth rate and potential to become "an even bigger mainstream social network".
It has not commented on its change of heart or revealed the sale price.
California-based Noosphere's other investments include the online gambling services Betcore and Murka, and the cybersecurity provider Cyber Safety Unity.
"Ask.fm has spent the past two years building out its safety operations and processes, dramatically improving the safety and trust of its platform during that timeframe," Tanya Snopko, Noosphere's chief communications officer told the BBC.
"This expertise is infused across the company and Noosphere is committed to supporting this investment moving forward.
"Along with the following the strict security policy we are going to work hard at attracting more mature audience mainly by means of marketing synergy of our existing AdTech projects. No great changes are planned yet.
"We're going to retain our staff."