Bahrain 'internet curfew' for village, say activists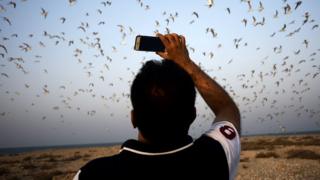 Nightly mobile network disruption has been detected in a Bahraini village at the centre of recent protests, an advocacy group has said.
Bahrain Watch has published a report in which it describes disruption to 3G and 4G networks in the village of Duraz.
Anti-government protests have been held in Duraz, which is home to Shia Muslim cleric Sheikh Isa Qassim.
Sheikh Qassim's citizenship was recently revoked by the Bahraini government.
Phone calls and SMS messages functioned normally during tests by Bahrain Watch, but data services were not available.
"Our experiments show that between 19:00 and 01:00 certain 3G and 4G cell towers belonging to Batelco and Zain appear to be turned off," Bahrain Watch notes in its report, "and 2G cells broadcast notifications to phones, indicating that mobile data services are not supported."
Fixed line connections were also investigated.
Bahrain Watch sent pings - basic data requests - to IP addresses within Batelco's network.
Roughly 12% of IP addresses had been disrupted for three nights in a row during these tests in July, the group said.
It is possible, the report says, that the disruption is a result of a "Service Restriction Order" from the government.
"In authoritarian regimes such as Bahrain and the other Arab dictatorships, activists have often regarded the internet as a double-edged sword," Christopher Davidson, a researcher at Durham University, told the BBC.
"On the one hand, it helps them organise, but on the other a well-resourced state can use it to monitor and surveil their activities."
Bahraini authorities have not responded to the report.
Internet connectivity in the Middle East and North Africa has been subject to government crackdowns in the past - including a country-wide blackout in Egypt during the Arab Spring protests in 2011.
Large disruptions such as this are both rare and dramatic, according to Dr Davidson.
"Usually it's a sign of a more desperate regime willing to take such a de-legitimising step as a sort of last resort to keep people off the streets," he added.
The BBC has contacted Bahrain telecoms companies Batelco and Zain for comment.