Toymakers fined for tracking children online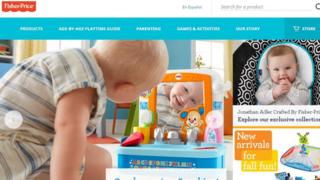 Three toymakers and a children's TV broadcaster have been penalised after their sites were found to contain cookies and other tracking tech.
The New York attorney general said the four firms involved had agreed to pay penalties totalling $835,000 (£630,000) as a consequence.
The US prohibits websites targeted at under-13s from collecting personal information about them without permission from their parents.
An inquiry into other sites continues.
"Now children live online and we have to police the internet as we seek to police our streets,'' Attorney General Eric Schneiderman said.
"I don't want there to be a dossier on any child that can be used later to scam them.''
The companies involved were:
Mattel - tracking tech was found on its Barbie, Hot Wheels, Fisher-Price, Monster High, Ever After High and Thomas & Friends sites. It was fined $250,000
Viacom - tracking tech was found on its Nick Jr and Nickelodeon sites, which contain pages for TV shows including Dora the Explorer, Spongebob Squarepants and Teenage Mutant Ninja Turtles. It was fined $500,000
Hasbro - tracking tech was found on a site promoting its Nerf blasters. The firm was not fined
Jumpstar - tracking tech was found on its Neopets site in addition to a plug-in that sent data about visitors to Facebook. It was fined $85,000
The firms have all signed agreements to scan their sites for data-collecting technology in the future to avoid a repeat of the illegal practices.