Trump's Twitter debate lead was 'swelled by bots'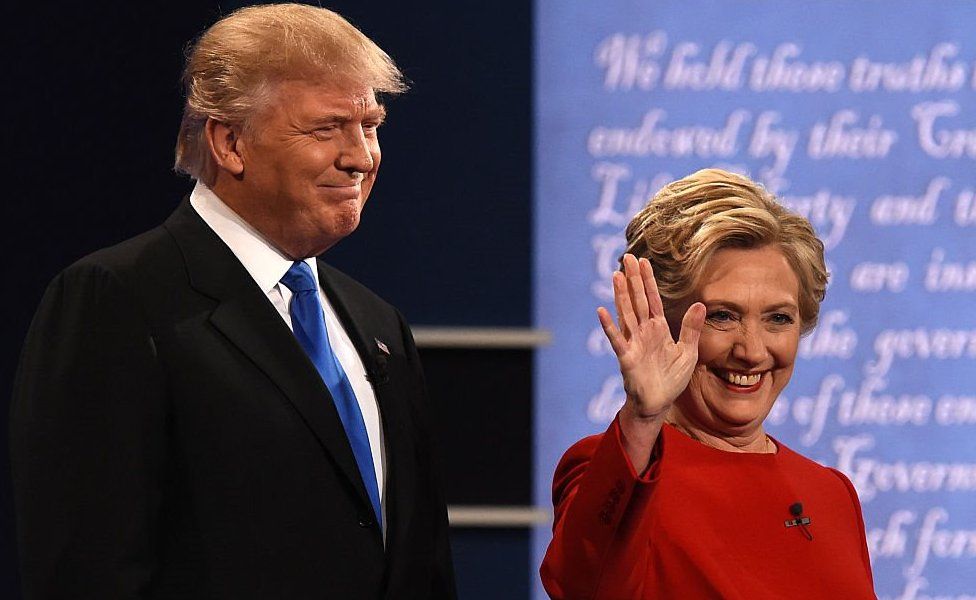 More than four times as many tweets were made by automated accounts in favour of Donald Trump around the first US presidential debate as by those backing Hillary Clinton, a study says.
The authors warn such software has the capacity to "manipulate public opinion" and "muddy political issues".
The report has yet to be peer-reviewed.
And one critic noted that it was impossible to be completely sure which accounts were real and which were "web robots".
The investigation was led by Prof Philip Howard, from the University of Oxford, and is part of a wider project exploring "computational propaganda".
It covered tweets posted on 26 September, the day of the debate, plus the three days afterwards, and relied on popular hashtags linked to the event.
Examples of pro-Trump hashtags tracked by the study:
#AmericaFirst
#deplorable
#NeverHillary
#pepe
#TeamTrump
#TrumpPence2016
Examples of pro-Clinton hashtags tracked by the study:
#dems
#DirtyDonald
#ImWithHer
#LoveTrumpsHate
#StrongerTogether
#WhyIWantHillary
First, the researchers identified accounts that exclusively posted messages containing hashtags associated with one candidate but not the other.
These accounted for about 1.8 million pro-Trump tweets and 613,000 pro-Clinton posts.
The researchers then analysed which of these had been posted by bots. They identified an account as such if it had tweeted at least 50 times a day across the period, meaning a minimum of 200 tweets over the four days.
The results suggested that 32.7% of such pro-Trump tweets had been posted by bots and 22.3% of such pro-Clinton ones.
In total, that represented a total of 576,178 tweets benefiting the Republican nominee and 136,639 in support of the Democratic one.
"On the balance of probabilities, if you pulled out a heavily automated account the odds are four to one that you'll find it's a bot tweeting in favour of Trump," said Prof Howard.
There is no suggestion, however, that bots were generated by either of the official Presidential campaign groups.
"We are not looking at the source, who is working on the bots or to what end, merely the metrics of the data," said Prof Howard.
Looking wider - to accounts that tweeted neutral hashtags or a mix of different kinds - the study suggested that 23% of all the tweets were driven by bots.
One machine learning expert cautions that the criteria used to identify the bots might have been too imprecise to have sifted out all the human-based activity.
"Real people can write a script and use an algorithm to tweet regularly with specific responses, or humans can tweet content that looks almost identical to a series of bots flooding a political hashtag", comments Caroline Sinders, an ex-IBM researcher who now works for Buzzfeed.
"Also, political commentators or people eagerly engaged in the political debate could also tweet this many times."
So, is it possible that Trump supporters might simply have been more enthusiastic than Clinton's and have done a better job at leveraging social media to their advantage?
Prof Howard said that it is unlikely to be the only explanation.
"Most of the heavy automation and tweets happened overnight and shared similar hashtags and information," he explains.
"They show behaviour that is not human and often don't have comments [about other issues apart from] the particular topic in question."
He adds that the 50-tweets-a-day rule was borne out by analysis of posts made during a past Venezuelan election and the Brexit vote.
In both cases, his team double-checked a sample of accounts that had been flagged as bots and confirmed they displayed other characteristics of being inhuman.
"From our data most real Twitter users don't get up to 50 times a day," he said. "So, on balance, that benchmark has worked well."
Bots take on various guises but have some give-away signs.
They often do not feature a profile image, and when they do it is often shared among multiple accounts - so watch out for duplicates.
Bots also tend to follow many more accounts than than they are followed by in turn - a sign that they do not have real friends or work colleagues.
They often have little to say apart from the topic of conversation they have been created to post about, and may tweet prolifically without apparent recourse to sleep.
Also watch out for accounts that reply to your messages in less time than was humanly possible to read what you wrote.
A final giveaway is if scrutiny of the bot's account reveals it has sent the same response to you to dozens of others too.
In addition to being more numerous, Prof Howard also points to the pro-Trump tweets being more effective, whether generated by bots or not.
They were more likely to add multiple hashtags and links to relevant web addresses to fill up the available 140-characters, he explains, which in turn helps keep tags alive and bolsters Trump's message.
"Someone wanting to follow [one of the hashtags] will see a lot more content and more cross posting," said the professor.
It is unclear what effect the bots actually have on voter behaviour, but Prof Howard believes that negative messages are more likely to have an impact than positive ones.
"In the 2008 and 2012 US elections, bots were used to make politicians look more popular with voters," he said.
"These days it's about engaging with your support base and constantly feeding them information, and certain hashtags that will keep their level of interest high."
One silver lining from the study is that humans are still the dominant force on Twitter and for the most part they seek out posts from other people.
"It's affirming that social media platforms can still present spaces where some people can have political conversations with their networks to genuinely discuss their views, " concludes Prof Howard.
"But when nearly a quarter of Twitter activity turns out to be automated it can compound the view that politicians are out to manipulate public opinion."
Related Internet Links
The BBC is not responsible for the content of external sites.