'Father of Pac-Man' Masaya Nakamura dies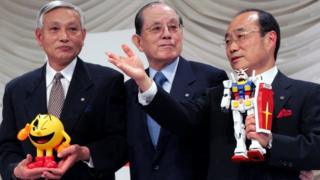 The founder of video game company Bandai Namco, which released cult game Pac-Man, has died at the age of 91, the firm has announced.
Masaya Nakamura established Nakamura Manufacturing, which went on to become the Nakamura Amusement Machine Manufacturing Company (Namco) in 1956.
He started out installing two electric horses on the roof of a department store in Japan as amusement rides.
He was known as the "father" of Pac-Man because it was a Namco release in 1980.
The game was developed by Toru Iwatani and in 2016 was named the highest-grossing arcade game of all time by the website US Gamer.
Mr Nakamura was an honorary advisor at Bandai Namco until his death on 22 January.
He was awarded the Order of the Rising Sun, a Japanese government honour, in 2007 and was inducted into the International Video Game Hall of Fame in 2010.