Samsung Galaxy S8's Bixby voice assistant delayed
Dave Lee
North America technology reporter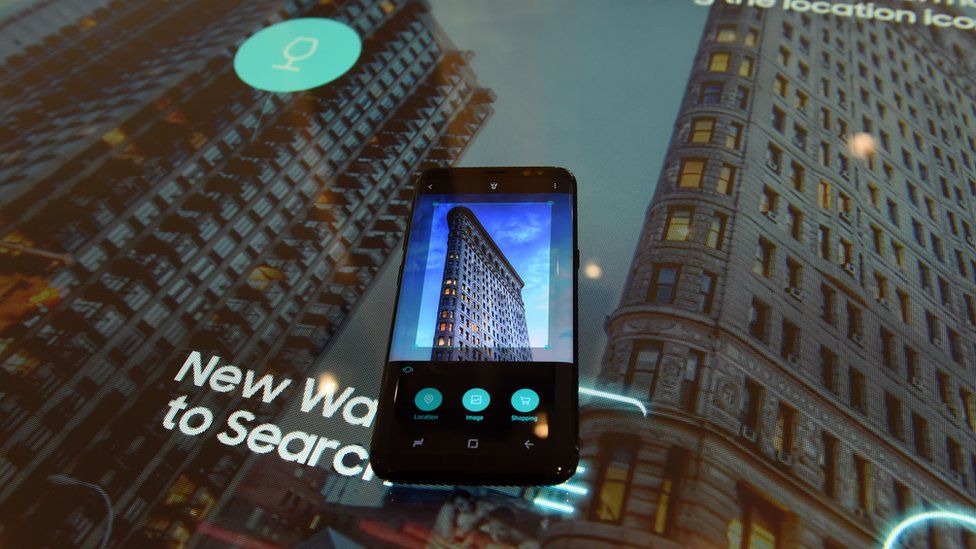 Samsung has confirmed that its much-anticipated answer to Apple's Siri will be delayed.
The Bixby voice-powered assistant was unveiled at a special event last month and was meant to debut on the South Korean giant's new flagship devices.
It promised to help users search and categorise photographs and access information using voice commands.
But the Galaxy S8 and S8+ will now ship without English voice control for Bixby.
However, Google's voice assistant, which is now a standard part of the Android operating system, will be available. And the Korean version of Bixby's voice control has not been delayed.
The full Bixby will be made available as an update later this spring, Samsung said.
It did not give a reason why, but early tests - by the BBC and others - suggested the software was lacking in the days ahead of its launch.
"Key features of Bixby, including Vision, Home and Reminder, will be available with the global launch of the Samsung Galaxy S8 on 21 April," the company said.
"Bixby Voice will be available in the US on the Galaxy S8 later this spring."
The smartphones, which impressed pundits at launch, have been seen as a way for Samsung to come back from the Note 7 exploding battery debacle - 2.5 million devices were recalled.
By Leo Kelion, Technology desk editor
When the BBC posted its hands-on trial of Bixby on the day the Galaxy S8 launched, several viewers commented that it seemed a bit slow.
What they hadn't seen were the out-takes in which the virtual assistant had failed at some of the limited tasks we were allowed to demo.
For example, a first attempt to ask "what's the weather like in London today?" brought the response: "Hmm looks like <Domain> isn't installed yet. Let's download it in <Store> now."
But when we subsequently asked "what's the weather in London?" we got the right reply.
In fairness to Samsung, we were warned that we were seeing a pre-release version of the tech and that it hadn't yet been adapted to work with British accents.
But one of Bixby's selling points is that it is supposed to be "tolerant" - meaning owners do not need to use set phrases to get the right response, but rather the tech should make sense of natural language.
So, it was a warning sign that Samsung was cutting things fine.
Ultimately it's probably a good thing that the firm doesn't release the software in an unready state to avoid social media being flooded with examples of its mistakes.
After the nightmare of the Note 7's exploding batteries, Samsung needs the S8 launch to go as smoothly as possible.
Furthermore, the fact a Korean version of the voice tool is still set to launch on schedule indicates there is not something deeply wrong with the underlying code.
But it does highlight the head-start Apple, Google and Amazon have with their rival AI tech and call into question whether Bixby is really capable of leapfrogging their efforts.