Uber's Travis Kalanick sued for fraud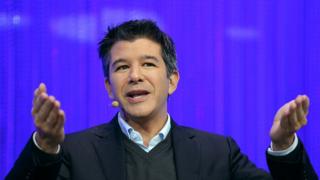 Travis Kalanick, the former Uber chief executive who was ousted in June, is being sued by one of the company's biggest investors.
Benchmark Capital, which owns 13% of the ride-sharing firm, has accused Mr Kalanick of fraudulently attempting to fill board seats with loyal allies.
They said that Mr Kalanick was paving the way for his potential return as chief executive.
A spokesman for Mr Kalanick called the lawsuit "completely without merit".
'Clearing a path'
In a legal filing obtained by Axios, Benchmark's lawyers alleged that Mr Kalanick sought to "entrench himself on Uber's board of directors and increase his power over Uber for his own selfish ends".
It goes on to say: "Kalanick's overarching objective is to pack Uber's Board with loyal allies in an effort to insulate his prior conduct from scrutiny and clear the path for his eventual return as CEO."
According to reports in July, Mr Kalanick had told friends he was "Steve Jobsing it".
This is a reference to Mr Jobs being kicked out of Apple in 1985, only to triumphantly return as chief executive just over a decade later.
The lawsuit demands that three extra board seats at Uber, added by Mr Kalanick in June last year, be removed.
Mr Kalanick currently holds one of those seats, meaning if the suit is successful he would be forced out of the firm altogether. The other two extra seats are currently vacant.
Uber troubles
Mr Kalanick was forced out as chief executive after a wave of scandals hit the company, including investigations into sexual harassment, gender discrimination and what was described as a "toxic" work-place culture.
The company is also being taken to court by self-driving firm Waymo, which has accused Uber of stealing aspects of its self-driving car technology.
In a statement, Mr Kalanick's spokesman accused Benchmark of "acting in its own best interests contrary to the interests of Uber".
Uber told the BBC it would not comment on the lawsuit. Benchmark Capital also said it had no further comment.