Nintendo to close Miiverse social network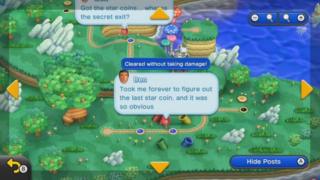 Nintendo has announced that its Miiverse social network will be closed down on 8 November.
The platform lets players post messages and drawings on game-related message boards, and share tips and hints.
Miiverse posts also appear within some popular Wii U and 3DS games, but the posts will disappear in November.
Miiverse was launched in 2012 alongside the Wii U games console and could be accessed on the 3DS, but did not appear on the new Nintendo Switch.
The social network was notable for the detailed hand-drawn images that were shared by artistic gamers, which would appear within popular titles.
It also gained a reputation for irreverent and often inappropriate message board posts.
"It was a chaotic but moderately successful experiment in creating a social network," said Tom Phillips from games site Eurogamer.
"The highlight was some of the incredible art - it was certainly the best of what Miiverse had to offer - but it was always a headache for Nintendo to police.
"Some of the moderation was entrusted to an algorithm, you could draw a penis shape and it would be deleted," he told the BBC.
Occasionally, however, rude drawings did slip through the net.
"It's such a family-focused brand, it was very un-Nintendo in a way to let people have free range to scribble things and have them appear in the games themselves," said Mr Phillips.
"What they wanted to create was a feeling of inclusivity and empathy. In one game you'd have posts popping up saying, 'I died a lot here,' or, 'That was a big surprise,' and that's very Nintendo."
Announcing the closure, Nintendo said: "All services offered through Miiverse, including reading and submitting posts and exchanging messages with friends, will no longer be available."
While games will still work after 8 November, some key features will disappear.
Super Mario Maker will still let players share their creations, but other players will not be able to comment on them
Mario Kart 8 will no longer let players share clips to YouTube
Splatoon will no longer show Miiverse drawings in the game menus or within battle stages
Super Smash Bros for Wii U and 3DS will no longer display drawings in the Miiverse stage, and players will not able to create tournaments
Mario vs. Donkey Kong: Tipping Stars will lose its Community feature, which will prevent players from collecting enough stars to unlock all items in the game's workshop. Nintendo said it will continue to sell the game.
"It never helped increase the reach of the Nintendo brand," said Mr Phillips.
"Breakout moments - like the Luigi death stare meme - came from people posting images on YouTube and Twitter," he told the BBC.
"Why make your own social network when there already are some that quite a few people use?"