Destiny 2 apology for 'Nazi-inspired' Kekistan flag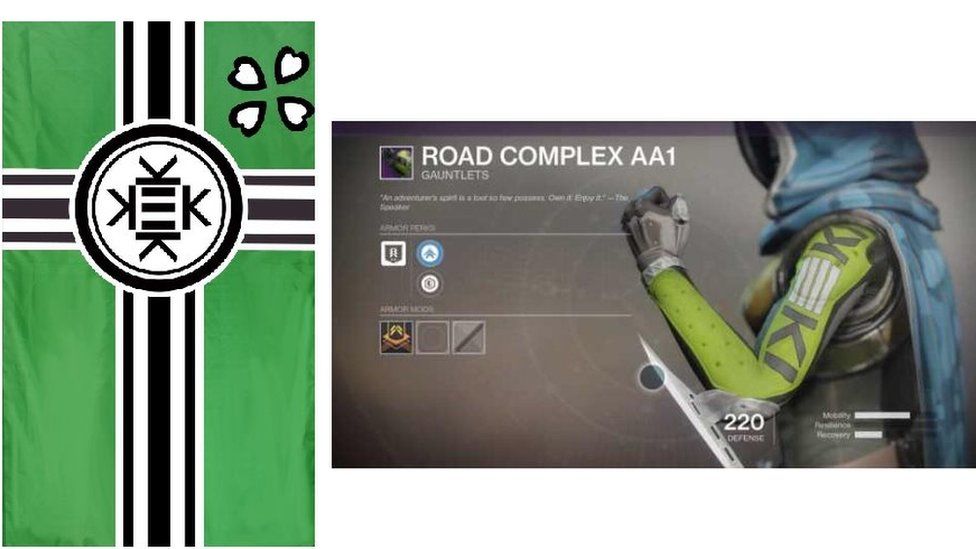 Destiny 2's developer has apologised after featuring armour in the video game that resembles a flag associated with the alt-right and internet trolls.
The item matches the design and colouring of the Kekistan flag - a banner made for a fictional country, which anti-racism campaigners say was modelled on a Nazi war flag.
Developer Bungie said it had already removed some instances of the imagery.
It added that others would be wiped by an update planned for next week.
"It is not intentional. We are removing it.
"Our deepest apologies. This does not represent our values, and we are working quickly to correct this. We renounce hate in all forms."
The firm has not provided any other information about how the art came to be included in the first place.
However, its chief executive has also tweeted on the matter, saying: "Our company values place the highest emphasis on inclusion of all people and respect for all who work with us or play our games."
Destiny 2 is the big-budget sequel to one of 2014's best-selling computer games, and was released on 6 September.
The inclusion of the offending armour had not been widely reported before Bungie acted.
"Bungie is a hugely established company in the game sector and wouldn't want any controversy connected with Destiny 2," commented Piers Harding-Rolls from the IHS Markit tech consultancy.
"There doesn't seem to have been a catalogue of complaints about this, but someone obviously brought it to the company's attention and it acted very quickly to remove it.
"What's interesting is that it has been transparent with its users and can't be accused of covering up anything."
While some players have welcomed Bungie's action, others attacked the move.
"Bungie just doesn't want their brand to be connected to a group of trolls from 4chan. I think it's pretty understandable," wrote one user on Reddit.
But another responded: "They could have easily removed it quietly without a peep and no-one would've known the wiser, but they just had to comment on a made-up fairytale land as being a hate symbol."
And another posted on Bungie's own forums: "What about the people you're offending by taking it away? It feels like you're playing favourites towards the extra-sensitive people out there."
Related Internet Links
The BBC is not responsible for the content of external sites.