Electric bus in record-breaking journey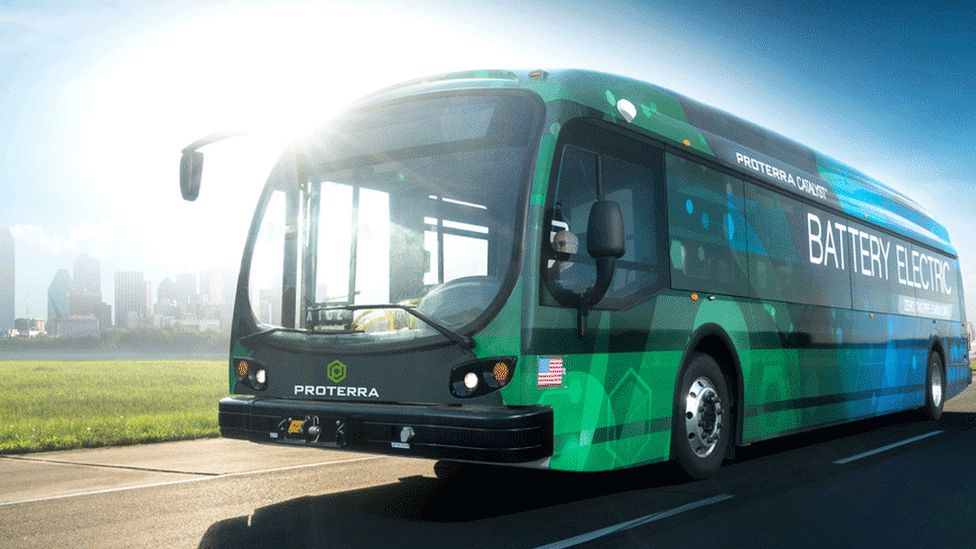 An electric bus has broken a world record by travelling more than 1,000 miles on a single charge.
The 40ft Catalyst E2 Max bus - designed by Californian company Proterra - went 1,102.2 miles on a testing ground in New Carlisle, Indiana.
Cities around the world are looking to use more electric vehicles for public transport, to combat air pollution.
Some experts believe the bus's long journey could be a breakthrough moment for electric vehicles.
The previous record of 1,013.76 miles was set by a light-duty passenger electric vehicle 46 times lighter than the bus.
Proterra said its "major feat" paved the way for more heavy-duty electric vehicles (EV) such as coaches and trucks.
"As we see incumbents and more companies enter the heavy-duty EV market, it has become very apparent that the future is all-electric, and the Sun is setting on combustion engine technology," said chief executive Ryan Popple.
The battery used for the journey had 660kWh of energy storage capacity.
Buses can hold much larger batteries than cars, and the one in the Catalyst E2 Max has nearly nine times the capacity of that in a Tesla Model S.
Proterra has sold more than 400 of its buses to councils, universities and commercial transport agencies in 20 states across the US.
Greenpeace clean air campaigner Rosie Rogers said: "Some companies are still trying to say the technology isn't ready to power an electric vehicle revolution and we need to hang on to diesel for years to come.
"The makers of this bus prove that really all you need is a bit of ambition and determination.
"If only our biggest mass-market carmakers had this kind of drive to tackle air pollution and improve the health and lives of the public."
More and more cities are putting in the infrastructure to support electric vehicles, and Japan now has more electric car charge points than petrol stations.
In Europe, Norway has the highest per capita number of all-electric cars, with more than 100,000 on the roads.
London boasts the largest electric bus fleet in Europe, with more than 2,500 hybrid electric buses running across the capital.
Ben Wood, an analyst from CCS Insight, said Proterra's accomplishment could help overcome one of the biggest issues in the adoption of electric vehicles: "range anxiety".
"If it is getting to the point now that a bus is travelling a significantly long distance, then that changes the perception of what an electric vehicle can deliver."
But he added: "A bus offers much more room for bigger, heavier batteries and comparisons between that and a small urban run-around could be misleading."