Tech giants sorry for false news about Las Vegas gunman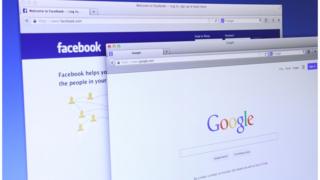 Google and Facebook have apologised after their algorithms led to the promotion of inaccurate information about the Las Vegas shooting.
Posts from a 4chan messaging board that falsely identified the gunman as an individual who was not involved were circulated online.
Google says the posts only appeared in its Top Stories section if users searched for the erroneous name.
Facebook said it took down the posts within minutes.
Speculation gone viral
The problem occurred when users began speculating about the identity of the gunman on 4chan, a controversial anonymous messaging board.
The users named an individual on the Politically Incorrect message board, claiming that the person was a "far left loon" and a "social democrat".
The comments were picked up by several blogs and news sites, including an article by the right-wing political website, the Gateway Pundit.
Many users then searched for the erroneous name on Google. The internet giant's algorithms traced the original source of the story back to the 4chan message board and posted a link to it in the Top Stories section.
"Unfortunately, early this morning we were briefly surfacing an inaccurate 4chan website in our search results for a small number of queries," a Google spokesperson told the BBC.
"Within hours, the 4chan story was algorithmically replaced by relevant results. This should not have appeared for any queries, and we'll continue to make algorithmic improvements to prevent this from happening in the future."
However, Google said only a small number of search queries were made for the name, which suggests that not many people would have seen the 4chan link.
As for Facebook, the social network told the Associated Press that it began removing results relating to the Gateway Pundit and 4chan within minutes.
The Gateway Pundit's White House correspondent Lucian Wintrich told far-right conspiracy website Infowars that the article was only online for 10 minutes before it was taken down.
Despite Facebook's efforts to remove hyperlinks to the story, users had made screenshots of the incorrect story and continued to circulate these images online, which were harder to detect and take down.
"We are working to fix the issue that allowed this to happen in the first place and deeply regret the confusion this caused," a Facebook spokesman said.
Who is responsible?
Google and Facebook have been criticised several times in the last 12 months for promoting content later found to be false, particularly relating to breaking news events.
Both tech giants have announced measures to fight inaccurate news in the last few months.
"Google and Facebook are much bigger than any media company now, but they insist that they are not publishers, that they are merely platforms, and as platforms, they don't need to take responsibility for their content," Prof Tim Luckhurst, head of Kent University's Centre for Journalism told the BBC.
"Governments create laws that allow broadcasters and newspapers to be sued, so it's up to the government to stand up to these websites and say that if anything relating to terrorism or false information is published, they can be sued."
Prof Luckhurst pointed out that in the past, Google and Facebook had been quick to tweak their algorithms when requested to do so by the Chinese government.
"Algorithms are not organic creations - they are the product of very clever software writers.
"They can tweak them when the Chinese government asks them to, they can tweak them to do target advertising, but if you ask them to tweak their algorithms in relation to terrorism or untruths, they say, 'We're not publishers.'
"But they've demonstrated that they clearly can do it, and so they should do it."
Individuals who shared the content online could face legal action.
"It's for individuals to take responsibility for what they post on social media, this person could make a lot of money from suing all these people who shared the screenshot online," said Dominic Ponsford, editor of the Press Gazette.
"Google should be only indexing bona fide news sources - it should be straightforward to check what is a bona fide news source and what isn't.
"It's kind of astonishing that Google's not doing that, given the huge concern in America about fake news."