Take two for Samsung's troubled Bixby assistant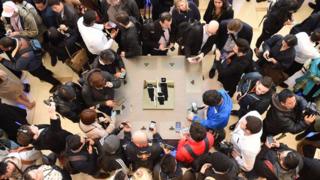 If you have a Samsung phone, you most likely have Google Android. And if you have Google Android, you have the Google Assistant.
That, first and foremost, is Samsung's problem. No matter how good its assistant - Bixby - may be one day, it'll still be up against Google's work, which has superior access to data.
Poor Bixby's lived a short and troubled life so far. It had been lined up to be a big new feature on the Galaxy S8, which went on sale earlier this year. But as the device shipped, Bixby wasn't yet ready for the English-speaking world, and was disabled. It left the flagship S8 with a physical button that essentially did nothing at all, a constant reminder of an area where Samsung has fallen short.
At Samsung's Developers' Conference, held this week in San Francisco, developers were told to welcome in Bixby 2.0, and put the shortcomings of Bixby 1.0 behind them. Like the bridge sharing its name, Bixby has been rebuilt. The lessons have been learned and from here on "you'll be making money".
That was a promise to developers from Dag Kittlaus, a vice-president at Samsung Mobile. He created the Viv assistant, which was acquired by Samsung last year. Before that, he co-founded the team behind Siri, later bought by Apple.
In a crowded market of personal assistants, Samsung is doing what it can to play to its strengths. First, it dominates the smartphone market - 23% of smartphones out there are from Samsung (Apple has 12%, according to Gartner).
Second, it makes fridges, and other unsexy home appliances that might genuinely benefit from voice-based controls because, as we all know, there is nothing in this world more confusing than the user interface on a washing machine.
So, Bixby will be coming to Samsung's fridges. And then perhaps, a lot of other things - the company announced it would be opening up Bixby for third-party developers.
"Developers will be first-class citizens, everything we can build with Bixby, you can too," Mr Kittlaus said.
"Whatever it is, you'll have the freedom to develop and build with no limitations."
Despite the positivity, Bixby is fighting to catch up in a race it has surely missed.
In a Q&A session at the conference, I asked Brad Park, who looks after "service intelligence" at Samsung, whether Bixby faces a level playing field when coming up against Google's Assistant within Android. He said he believed consumers would find space for two assistants on the same device. That seems very unlikely to me.
Brian Blau, a Gartner analyst, held a similar view.
"What Samsung has said is 'kinda forget about Bixby 1.0', they had to make a clean break," he said.
"It's going to be very, very difficult for Samsung to meet the level of sophistication that we think is going to come with Google.
"There's few companies that have insight like that, but Samsung does not have the data about what people are doing like Google does.
"You tend to think that the Google system is going to be the smartest one over time."
_____
Follow Dave Lee on Twitter @DaveLeeBBC
You can reach Dave securely through encrypted messaging app Signal on: +1 (628) 400-7370