Sony revives Aibo robot dog toy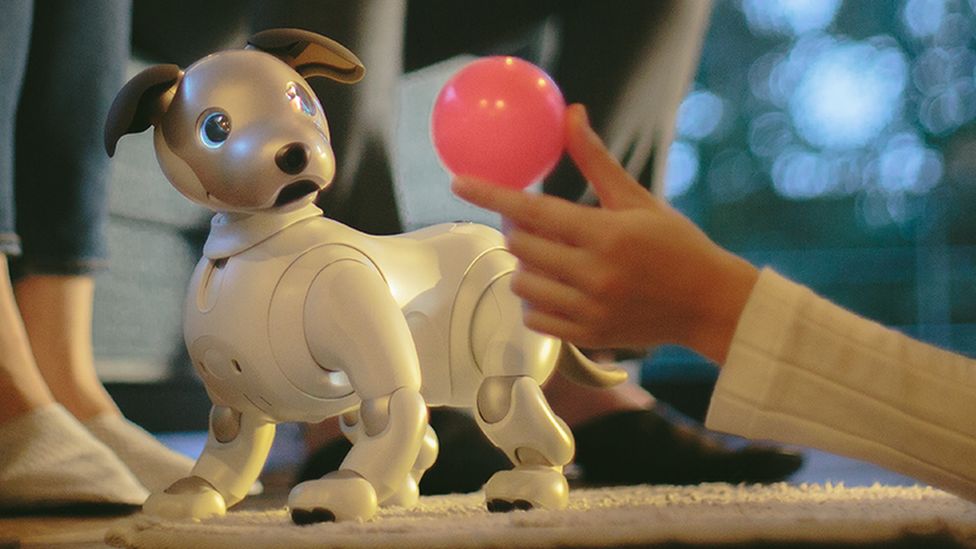 Sony says it is to bring back Aibo, its famous robot pet dog.
The new Aibo is the tech giant's first entertainment robot in 12 years, and for now, it will only be sold in Japan.
The machine learns from its owners and environment, as well as tapping into collective data stored in the cloud by other robot units.
The return of Aibo suggests that Sony has finally got its innovative spirit back, say experts, after several difficult years.
The revamped device is designed to move and act more like a real dog, and over time to develop its own distinct personality.
The robot incorporates fish-eye cameras, location and mapping software, wi-fi connectivity and "artificial intelligence" to help it understand and adapt to its owners.
Aibo will go on sale in January for 198,000 yen ($1,730, £1,300). Users will also need to pay a monthly subscription and use an app-based store to purchase and install additional abilities.
In 2006, veteran Sony engineer Toshitada Doi threw a mock funeral for Aibo, after the firm axed his pet project for being superfluous, according to the Wall Street Journal. At the time, Mr Doi said that Aibo was a symbol that Sony's "risk-taking spirit was now dead".
This was under the tenure of Welsh-born businessman Sir Howard Stringer - Sony's first foreign chief executive - who tried to turn around the electronics business by cutting thousands of jobs and ending unprofitable projects.
Following Mr Hirai's extensive restructuring programme, the electronics giant finally seems to be back on form.
"What Sony is doing is using Aibo to demonstrate its artificial intelligence credentials," commented Nick Maynard, a research analyst at Juniper Research.
"It's not impossible for it to become a popular device, but I don't think it will be in every household.
"This product is a statement of intent - it's Sony announcing its return as a creative force."
Sony said in May 2016 that it was keen to build up its artificial intelligence business and it has invested in the AI start-up Cogitai.
The firm is also leaning towards innovations such as augmented reality and projections.
"What's fascinating is that Sony certainly seems to have its innovation mojo back, whether it's the Xperia Touch Android-based projector for smart homes, the e-ink watch or the 3D Creator augmented-reality technology that lets you scan someone's head and make an avatar of them," Ben Wood, a chief analyst at CCS Insight told the BBC.
"Because Sony's fortunes as a corporation have improved, it's given it the confidence to bet on riskier technologies.
"Not all of these products are going to succeed, but to keep your innovation edge, that's exactly what you need to be doing."
Related Internet Links
The BBC is not responsible for the content of external sites.