HTC shows off all-in-one VR headset called Focus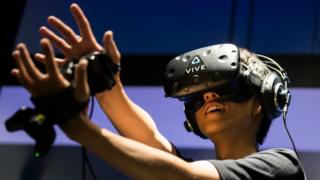 HTC has officially unveiled a standalone virtual reality headset called the Vive Focus.
The all-in-one gadget does not need to be connected to a computer or use a phone's screen to show images.
The move comes a month after Facebook's Oculus division unveiled plans for its own untethered headset.
HTC has not given any pricing or release dates for the Focus but did say it would initially be available in only China.
At the same time, HTC announced it had stopped working with Google to produce a standalone headset based on the search giant's Daydream technology. Lenovo is still working with Google on a headset.
Scene setting
The Vive Focus has an AMOLED screen and uses internal sensors to work out where a person is looking.
It gives users a greater ability to explore virtual scenes, as it will support six degrees of movement.
Current all-in-one headsets that use a smartphone's screen as a display typically have only four degrees of freedom - up, down, left and right.
With six, users can move their heads backwards and forwards and get a greater sense of their presence in a virtual scene.
"Six degrees of freedom tracking is a standard feature on high-end PC and console headsets, and, with its support, instantly elevates Focus above cheaper smartphone VR headset solutions," said games analyst Piers Harding-Rolls, from IHS Markit.
Mr Harding-Rolls said standalone headsets were the "end game" for wearable VR and it was "encouraging" to see HTC release one that could match PC versions.
He said HTC's the decision to release the Focus in only China made sense.
"China is the most advanced market for smartphone VR and for trying out higher quality VR at out-of-home venues," he said.
Headsets from Facebook, Google and Samsung were not officially available in China, he said, which could leave a vacuum for HTC to occupy.
HTC will face competition from Oculus, which is working on two untethered headsets.
The first, called the Oculus Go, matches the capabilities of smartphone-based headsets.
The other, called Santa Cruz, is an untethered version of its current, powerful Rift headset.