Twitter is paralysed by Trump's tweeting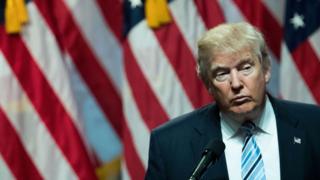 Once again, Twitter finds itself between a rock and a far-right place.
Donald Trump's retweeting of Britain First's Jayda Fransen on Wednesday was a truly shocking moment. The British Prime Minister said it was "wrong". It contributed, as one US news site put it, to Trump's "darkest day" as President.
Yet as Wednesday rolled into Thursday, the leader of the free world retweeting a far-right organisation became just another frightful part of what we apparently refer to as the "new normal".
Now perhaps the most surprising element of this spectacle isn't that the President amplified the tweets of a woman who has been fined for religiously aggravated harassment - but that those tweets are still there.
Volatile space
Recently Twitter has pledged to crack down on hate speech, and, more importantly, promised to be more transparent about how it goes about moderating its increasingly volatile space.
It said those who engaged in hateful behaviour, online and offline, would see their "verified" status removed, acknowledging that some saw the bright blue tick as badge of honour for Twitter users.
The three tweets in question showed shocking video clips, though Ms Fransen's captions added context that was both inaccurate and inciteful, targeting, as Britain First usually does, Muslim immigrants.
On Thursday, Twitter said it wouldn't take any action against the tweets - though it did tag the material as "sensitive".
Despite its new transparency pledge, it refused to offer an explanation, or give any indication - even off the record - as to its reasoning for keeping the tweets online.
Ms Fransen, Britain First's deputy leader, remains on the platform - verified with a blue tick - despite "offline" behaviour that includes a fine of almost £2,000 for religiously-aggravated harassment of a stranger in the street. Ms Fransen admitted to shouting abuse at the Muslim woman, who was with her children.
When asked about Ms Fransen's tweets and status, a Twitter spokeswoman sent the BBC the following statement.
"To help ensure people have an opportunity to see every side of an issue there may be the rare occasion when we allow controversial content or behaviour which may otherwise violate our Rules to remain on our service because we believe there is a legitimate public interest in its availability."
The follow up questions are obvious. What is "every side" to this story? What is the "public interest in its availability"?
Twitter said it would not offer further comment.
Irrelevant nature
One argument might be that the precise content of the videos are important to those wanting to have an informed opinion on Trump's decision - but even his own press secretary apparently disagrees with that.
"I'm not talking about the nature of the video," Sarah Huckabee Sanders told White House reporters on Wednesday.
"I think you're focusing on the wrong thing. The threat is real, and that's what the president is talking about."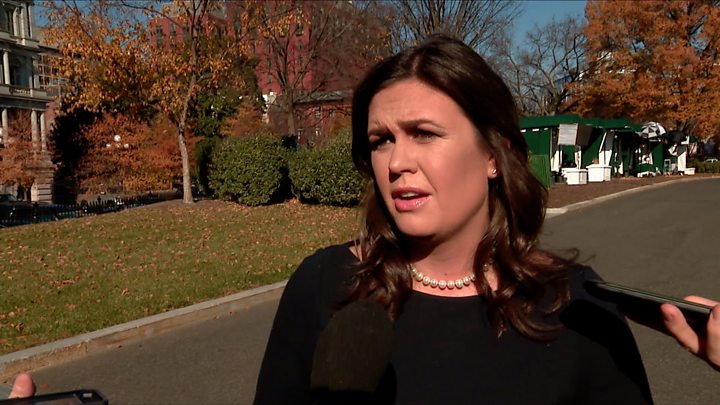 In other words, the content of the videos were irrelevant to Trump's wider point, whatever that may have been. Twitter, however, considers it vital to the public interest to keep the videos online, boosted by the President to more than 40 million followers.
That's not a view shared by Brendan Cox, whose wife, the MP Jo Cox, was shot dead in 2016 by a man who shouted "Britain first" as he killed her.
"Spreading hatred has consequences and the President should be ashamed of himself," Mr Cox wrote on Twitter.
With that in mind, Twitter's safety team might want to consider whether there's greater public interest in taking the tweets down.
Inconsistency
It seems a lifetime ago now that Twitter billed itself, back in 2012, as the "free speech wing of the free speech party", a characterisation that both the company, and arguably the internet as a whole, has well outgrown.
Things were simpler for Twitter back then. Now, its reality is one where it apparently can't please anyone. While its team in San Francisco debated internally (we assume) what to do about Trump's retweeting, the head of the US communications regulator was in Washington accusing it (and other big networks) of unevenly and unfairly censoring conservative voices online.
The firm's chief executive Jack Dorsey, who from time-to-time weighs in on controversial matters to dampen the hysteria, has so far been silent on Mr Trump's retweeting of Britain first.
Renowned tech commentator John Gruber described Twitter's statement as "weasel-ese" - another sign of a company paralysed; unprepared to handle the tidal wave it would face were it to take action against the President's Twitter activity.
Twitter's inconsistent treatment of hate speech surely makes you consider if rather than acting in in the public's interests, it's far more concerned about its own.
Follow Dave Lee on Twitter @DaveLeeBBC
You can reach Dave securely through encrypted messaging app Signal on: +1 (628) 400-7370