Apple Shazam: Why is the US company buying the music app?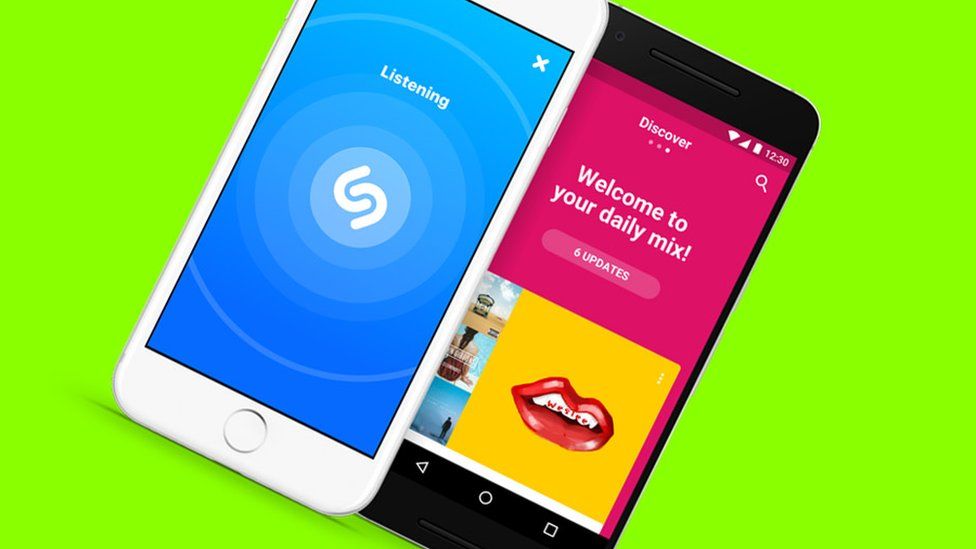 Scan your eyes over Apple's just-published list of the year's most popular iPhone apps, and there's one notable omission: Shazam.
In fact, it's been a while since the song-identifying software squeezed its way into the iOS App Store's top 10.
So, why has Apple confirmed it is "combining" its business with that of the smaller London company?
It has not revealed the price it is paying, but the sum is rumoured to be as much as $400m (£300m), which would make it one of Apple's most expensive takeovers to date.
The US technology giant also hasn't disclosed its motivations beyond saying that it has "exciting plans in store".
But there are several reasons the deal may have appealed.
Apple's smart assistant, Siri, already taps into Shazam, allowing users to verbally ask: "What song is playing?" and has done so for more than three years.
But with growing competition between Apple Music and Spotify - which also ties into Shazam - Apple may have felt the need to secure the service rather than risk its Swedish rival or some other company buying it first.
Apple has said that Shazam is a "natural fit" for its streaming music platform.
Some, however, believe that the real value of the acquisition isn't Shazam's technology - which Apple could presumably have developed a version of itself for a smaller sum - but rather the data Shazam has gathered for more than a decade about its millions of users.
"Spotify has made the discovery of new music front and centre of what makes it a compelling proposition," said Mark Mulligan, from the consultancy Midia Research.
"Apple just doesn't have the same amount of data about listening tastes as Spotify, meaning it can't drive recommendations with as high a degree of accuracy and precision.
"Shazam essentially gives it a shortcut to having a massive database."
Music forms a major pillar of Apple's business - not just its song subscription service, but also its:
Beats headphones division
Beats 1 radio station
iTunes store
Carpool Karaoke TV show (with other music-themed programming reportedly on the way)
So, locking in one of the key song-discovery services and potentially deepening the way Shazam ties into Apple's wider ecosystem has a certain logic.
Apple will be mindful that first Google Now and subsequently Google Assistant have used in-house technology to let Android users identify songs.
That helped the search giant add a clever feature to its recently released Pixel 2 phone: the handset proactively shows the name of songs it hears on its home screen without waiting to be asked.
Moreover, it does this without requiring an active internet connection thanks to it periodically updating an on-device database of tens of thousands of tracks, and carrying out the whole song-matching process on the phone.
To let Siri replicate the trick or add innovations of its own, Apple might have felt it needed to bring Shazam in-house.
Apple has long portrayed itself as a company that goes the extra mile to protect its users' privacy, so it would presumably reject the idea of allowing a third-party to run an always-listening service on its devices.
Apple's Homepod smart speaker - a rival to the Amazon Echo and Google Home - has had its release date delayed despite the hardware being unveiled back in June.
That points to the problem being with its software.
Perhaps some of Shazam's audio-recognition technology might provide a quick fix, or at the very least Apple might believe it could add extra capabilities in the future.
Augmented reality advertising
The technology superimposes graphics over real-world views captured by a smartphone's camera and is something Apple's chief executive, Tim Cook, is particularly keen on.
He has repeatedly called AR more "profound" than virtual reality, which limits users to computer-generated views.
Shazam has focused on offering its AR capabilities to brands.
Fanta has used it as a way to let users bring posters for its soft drinks to life, while if users held their phone over a bottle of Bombay Sapphire gin they could see images of its ingredients grow out of its sides before prompting them to explore cocktail recipes.
Another British start-up, Blippar, has already demonstrated that merging real-world object recognition and AR has uses beyond advertising - it offers a way to show information about people seen standing nearby.
Perhaps, Apple is keen to build on Shazam's efforts to develop killer features of its own for the launch of its much-rumoured AR glasses.
Related Internet Links
The BBC is not responsible for the content of external sites.