Edward Snowden's Haven app 'catches spies'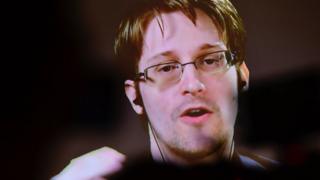 US whistle-blower Edward Snowden has helped create an Android app designed to protect the possessions of journalists and human rights defenders.
The software uses sensors - including a phone's camera, microphone, gyroscope and accelerometer - to detect intruders tampering with someone's possessions.
It is open source, meaning its code can be inspected.
It is designed to be used on a "second" smartphone that can be left with the possessions a user wishes to monitor.
The app was created as a joint venture between The Guardian Project and Freedom of the Press Foundation, of which Edward Snowden is board president.
"Imagine you are a journalist working in a hostile foreign country and you are worried about security services breaking into your hotel room and rifling through your belongings and computer while you are away," reads the press release.
"Haven detects changes in the environment using the sensors in a typical smartphone to alert you if anyone enters your space or attempts to tamper with your devices while you aren't there."
The app then sends encrypted alerts to the user's primary phone, allowing them to monitor the activity via a server on the dark web, known as Tor Onion.
It does not transmit information that third parties can access unless the user has SMS functionality turned on, which they can do for situations in which they would not otherwise be able to receive data.
The organisations behind the app have set up a donation page for those wishing to support its further development.
Silenced 'witness'
Former National Security Agency (NSA) contractor Mr Snowden has lived in exile in Moscow since 2013, after he leaked details of extensive internet and phone surveillance by US intelligence agencies.
In an interview about the new app, he told Wired magazine: "If you're the secret police making people disappear, Haven changes the calculus of risk you have to go through."
"You have to worry that every possible cell phone might be a witness."
Some members of the public have questioned whether the app can be trusted given Mr Snowden's involvement.
Wired tested the app itself and reported that it was extremely sensitive to movement.
It said that leaving the phone on top of a computer with a moving fan inside had created hundreds of alerts.