Vietnam army hires censors to fight 'internet chaos'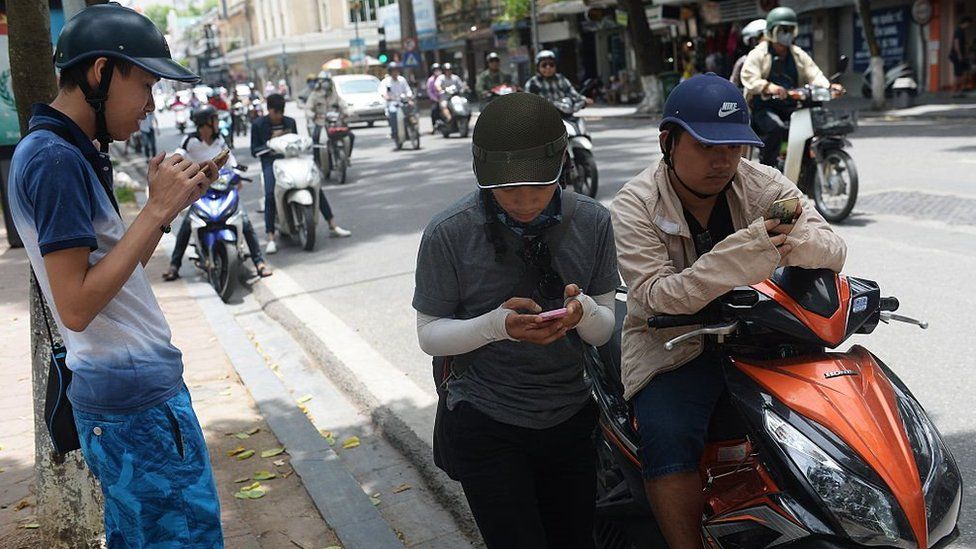 The Vietnamese military has built up a force of more than 10,000 internet censors, according to local reports.
A People's Army leader is quoted as having said that the "cyber-troops" had been tasked with tackling "wrongful views" and anti-state propaganda.
Vietnam has a high rate of social media use but also a reputation for restricting freedom of speech.
The latest revelation has led to comparisons with China, although Vietnam has been more willing to allow western tech firms to operate locally.
Lieutenant General Nguyen Trong Nghia - deputy head of the military's political department - is reported to have announced the existence of Force 47 at a speech in Hanoi on Christmas Day.
He is said to have declared that 62.7% of the Vietnam's population of more than 90 million citizens now had access to the net.
"Such a strong growth rate does both good and harm to the country," he said.
"On the negative side, the enemy takes advantage of the internet to create chaos."
Vietnam enforces a ban on independent political parties and human rights organisations.
YouTube and Twitter are also popular in the nation.
Earlier this year, a draft cyber-security law was published that proposed popular tech companies would have to host local users' records within data servers based within its borders.
The announcement about the censors preceded a court ruling in which 15 people were jailed for plotting to bomb the country's biggest airport.
The government's official news site said the accused had been directed by an overseas group that had used social media to recruit them and to spread propaganda.
Campaign groups have, however, criticised other arrests for internet-related dissent.
The group said the main reason for Nguyen Van Hoa's seven year sentence had been his coverage of a toxic spill from a steel plant that had poisoned millions of fish.
It has also drawn attention to Nguyen Ngoc Nhu Quynh, a blogger nicknamed Mother Mushroom, who was imprisoned for 10 years in June for criticising the handling of the same incident.
Related Internet Links
The BBC is not responsible for the content of external sites.