Apple's Tim Cook keeps nephew off social media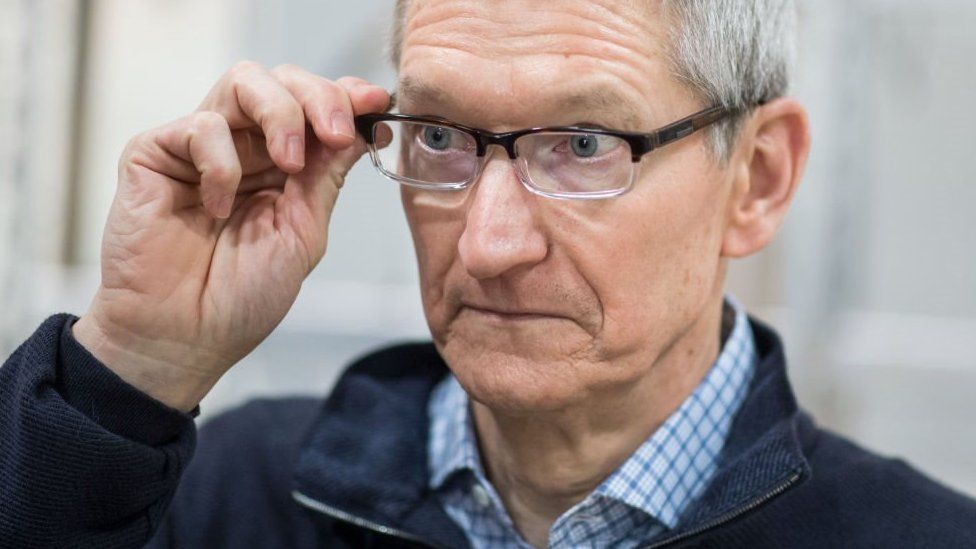 Apple chief executive Tim Cook has said he does not want his nephew to be on a social network.
The platforms have all acknowledged problems in recent days.
One expert suggested technology companies should face tougher regulations despite their efforts to resist the prospect.
At a coding-related event at Harlow college, in Essex, Mr Cook told a Guardian reporter: "I don't have a kid, but I have a nephew that I put some boundaries on.
"There are some things that I won't allow. I don't want them on a social network."
The US's Children's Online Privacy Protection Act (Coppa) places restrictions on the information technology companies can collect about under-13s, and many social media companies officially bar younger users from their services as a consequence.
Social networks have faced a barrage of other criticism in the ensuing months.
One issue has been the degree to which they have allowed their platforms to be manipulated by "fake news" and propaganda.
On Friday, Twitter acknowledged that more Russia-linked accounts had been engaged in efforts to spread discontent on its platform during 2016's US presidential election than it had previously acknowledged.
Elsewhere, two Facebook executives have acknowledged issues with their service.
Facebook's civic engagement product manager, Samidh Chakrabarti, has also blogged that social media companies in general need to be more aware about the influence they wield.
"If there's one fundamental truth about social media's impact on democracy, it's that it amplifies human intent - both good and bad," he wrote.
"At its best, it allows us to express ourselves and take action. At its worst, it allows people to spread misinformation and corrode democracy.
"I wish I could guarantee that the positives are destined to outweigh the negatives, but I can't. That's why we have a moral duty to understand how these technologies are being used."
Meanwhile, YouTube has been more concerned with mopping up the fallout from a vlogger who posted footage of an apparent suicide victim in Japan.
"We're not content creators; we're a platform that distributes the content," he said.
Social media companies - and Apple itself - also face growing criticism that their products are addictive in nature.
The recently created Time Well Spent campaign group says: "What's best for capturing our attention isn't best for our wellbeing," adding the platforms would not change unless made to do so.
Several technology leaders - including Facebook's chief operating officer, Sheryl Sandberg, and Google's chief executive, Sundar Pichai, - are expected to resist calls for further regulation at behind-the-scenes meetings at the World Economic Forum in Davos this week.
But one industry watcher thought it likely that legislators and their watchdogs would soon intervene in the way technology companies operated.
"They are having huge effect on the ways we get information and how we live our lives," said Dr Joss Wright, from the Oxford Internet Institute.
"And the idea that because they are 'technology' means they should be exempt from regulation or should be allowed to fix all the problems themselves doesn't stand up.
"We need to have a say as society in what their problems are and what effects they are having, and that's the role of regulation."
Related Internet Links
The BBC is not responsible for the content of external sites.