Arsenal signs crypto-currency deal with gaming firm CashBet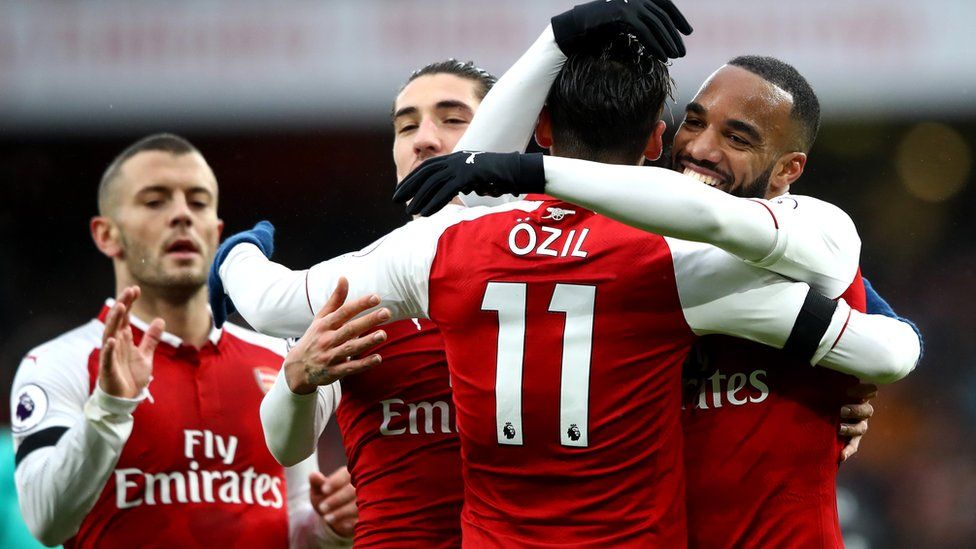 Arsenal has become the first major football club to sign a deal to promote a crypto-currency.
The club has reached an agreement with the gaming company CashBet, which is planning to launch its own currency CashBet Coin.
It will see CashBet Coin advertised at Arsenal's Premier League home games.
But one crypto-currency expert has questioned whether the club is wise to promote what can be a very risky investment.
CashBet is a Californian online gaming business formed in 2012, which is now launching an Initial Coin Offering (ICO). It aims to raise $40m by getting investors to buy CashBet Coins which can then be used to bet on its various online games.
Arsenal's chief commercial officer Vinai Venkatesham said: "We are looking forward to working with CashBet Coin as they launch their new crypto-currency."
I've asked Arsenal whether it was wise to endorse a highly volatile business and whether it was encouraging fans to bet with CashBet Coins.
"Not at all. The partnership aims to promote CashBet Coin ahead of their Initial Coin Offer on 24 January," a spokesman for the club said.
"It does not exist to encourage fans to bet with CashBet Coin."
ICOs have become an extremely popular way for businesses to raise money following the surge in value of Bitcoin, the original crypto-currency.
But they are unregulated and investors who buy the coins have no stake in the business and receive no dividends. They hope to profit from the rising value of the crypto-currency.
The Financial Conduct Authority has warned that ICOs are "high-risk, speculative investments".
David Gerard, whose book "Attack of the 50 Foot Blockchain" warns about the risks of investing in crypto-currencies, says Arsenal fans who might be encouraged to see CashBet Coins as a new way of betting need to be cautious.
"Crypto-currencies are less regulated than regular betting shops and it's a lot harder to get actual pounds back out again," Mr Gerard said.
While CashBet says it is regulated by the UK Gambling Commission and the Alderney Gambling Control Commission, a spokesman admitted that did not apply to its new crypto-currency venture.
He said that punters who bet with CashBet's currency would eventually be able to convert their winnings into cash on third party exchanges.