Bitcoin puzzle worth $50,000 solved after nearly three years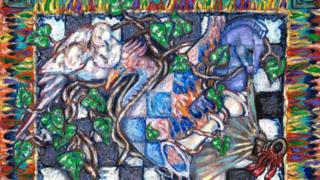 A secret code hidden in a painting that gave access to an online wallet containing Bitcoin worth $50,000 (£35,500) has been cracked after nearly three years.
The artwork, by Rob Myers and @coin_artist, who uses a pseudonym, was first published online in early 2015.
A code contained within it revealed a private key that granted its discoverer access to the wallet full of bitcoins.
And the bitcoins were finally removed from the wallet last week.
Technology website Motherboard reported that a 30-year-old programmer had claimed the funds after searching online for puzzles to do with crypto-currencies.
Motherboard added that the programmer said they lived in a country where it was "not safe" to own Bitcoin and therefore wanted to keep their name secret.
The puzzle encoded a string of binary - a series of zeroes and ones - in complicated rows of flames painted around the edge of the canvas.
The colour and shape of each flame determined a four-character chunk of the binary series, with a further part of the code represented by six ribbons of different lengths in the bottom right-hand corner.
After all of these codes had been worked out and linked together, the successful puzzle-solver was able to translate the full string of zeroes and ones into a Bitcoin private key with the help of a simple computer program.
'Genuine brain puzzle'
It wasn't surprising that it had taken so long for someone to solve the painting's code, said Peter Todd, a cryptography consultant.
"Puzzles like that one aren't things you can just throw computing power at - they're genuine brain puzzles," he told the BBC.
This is not the first time someone has claimed bitcoins after cracking a puzzle set by their original owner.
In January, a Belgian PhD student worked out a key to a single bitcoin - then worth more than $10,000 - after decoding a strand of synthetic DNA.
And two hackers claimed $1,000 in Bitcoin late last year after reconstructing a partially blurred-out QR code that had briefly appeared on French television.