Russian Tumblr trolls pose as black activists, says Buzzfeed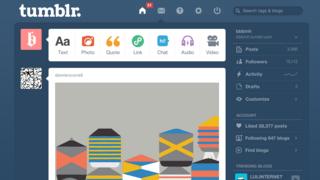 Russian trolls posed as black activists on Tumblr to share political messages before the US presidential election, according to a Buzzfeed investigation.
The accounts allegedly shared content on issues such as police violence to appeal to young African-Americans.
Buzzfeed says it has tied them to the Internet Research Agency, a group known for its pro-Kremlin social media posts.
A researcher at the University of Oxford said there were "parallels" with Russian activity on Facebook.
Jonathan Albright of the Tow Centre for Digital Journalism, who worked with Buzzfeed on the investigation, said the accounts seemed to be part of an "ongoing campaign" that began in early 2015.
Popular posts criticised Democratic presidential candidate Hillary Clinton, supported independent Senator Bernie Sanders and highlighted police violence against black communities, according to Buzzfeed.
In one example, the account 4mysquad shared gifs showing a black girl being sexually assaulted by a police officer. The officer was falsely identified as a member of the New York Police Department.
The Tumblr accounts frequently used the same names as some of the 3,814 IRA-backed Twitter accounts identified by the company in its report to Congress, according to Buzzfeed.
While Facebook and Twitter have been asked to testify before the Senate Intelligence Committee on Russian interference in the US election, Tumblr had not yet been linked to Russian misinformation campaigns.
But Lisa-Maria Neudert, a researcher with the Computational Propaganda Project at the Oxford Internet Institute, said that there were "a lot of parallels" between the trolls' strategy on Tumblr and other social media sites.
"It's not about promoting one candidate or message, but about sowing political distrust and confusion, and feeding into fears that society is already having," she told the BBC.
"Tumblr is really popular among teens, who are very vulnerable and very susceptible to political messages because they haven't formed political identities yet."