MPs travel to US on fake news mission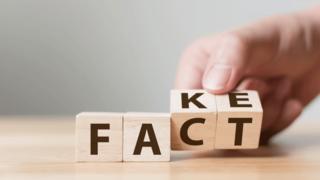 Members of the UK's Digital, Culture, Media & Sport Committee are in Washington to grill Facebook, Google and Twitter about fake news on their platforms.
The hearing will question senior executives about possible Russian meddling in the British elections.
Prime Minister Theresa May has accused Russia of "weaponising information".
There have been suggestions that the event could have been hosted in London at lower cost.
Several of the executives involved - including Facebook's policy director Simon Milner and Twitter's public policy chief Nick Pickles - are based out of the English capital, while others regularly visit it.
One tech firm told the BBC that when it agreed that one of its California-based executives would attend, it had assumed that the event would be in London, and had been surprised to discover it was instead happening in the US capital.
However, the committee's chair defended the decision.
"We didn't have an offer from the tech companies to fly their people out to London to give evidence," said Damian Collins MP.
"In fact, when we first discussed this inquiry with them they all agreed that it would be easier to get people to come and give evidence if we held a session in America.
"What we particularly wanted was global policy leads on these issues giving evidence... and that's what we've got."
Fake news
This is the first time a House of Commons committee will broadcast a hearing from outside the UK.
The hearing will last one day and will begin with question-and-answer sessions with Google's vice-president of news Richard Gingras and Juniper Downs, global head of public policy at YouTube.
In written evidence already submitted, Google has said that its see its role "to help people find useful and relevant information by supporting the development of quality content online, restricting the flow of money to deliberately misleading content and ensuring our reporting and feedback tools are as effective as they can be."
It added that it had taken several steps to tackle the issue of misinformation, including:
An additional £2.2m to UK projects via the Digital News Initiative
Working with publishers to strengthen subscription-based models
Promoting diversity of opinion through the updated Google app
Promoting established news sources on YouTube
The second session will see two Facebook executives questioned and the third will address public policy heads at Twitter.
The committee will also hear evidence from a range of academics and those who work in news, including Tony Maddox, vice-president at CNN, Kinsey Wilson, chief executive of the New York Times, and Major Garrett, chief White House correspondent for CBS News.
In written evidence submitted ahead of the hearing, David Chavern, president of the News Media Alliance - which represents nearly 2,000 news properties across the US - said Google and Facebook needed to do more.
"When it comes to visibility on these platforms, fake news publishers are optimally designed. They push incendiary, provocative headlines that attract clicks within the platform environments...the algorithms work in favour of fake news."
"While both Google and Facebook like to claim that they want to be 'neutral' platforms that do not discriminate between types of content, the fact is that they are attention businesses that use algorithms to actively manage how information is delivered to users."
He suggested that the algorithms should give higher priority to content by publishers who employ professional reporters and follow high journalistic standards while Google and Facebook should offer creators of original journalism a better economic arrangement, including better revenue and data sharing.
Among other questions the committee will ask are:
What is fake news?
Where does biased but legitimate commentary move into propaganda and lies?
What impact does fake news have on public understanding of the world and on the public response to traditional journalism?
Is there any difference in the way people of different ages, social backgrounds and gender use and respond to fake news?
Have changes in the selling and placing of advertising encouraged the growth of fake news?
Both the UK and the US are taking the issue of fake news increasingly seriously and there is mounting pressure on tech firms to do more to combat it.
In November, Facebook said it would launch a tool that lets people see if they have "liked" pages created by foreign actors to spread propaganda during the US presidential election.
It has previously revealed that as many as 126 million Americans may have seen such content.
It has also recently announced plans to elevate content from "trustworthy" news sources.
The Internet Research Agency - known informally as the Russian troll factory - is believed to be behind hundreds of Facebook, Instagram and Twitter accounts, many designed to look as if they were created by US citizens.