Snapchat revamp gets full-scale UK rollout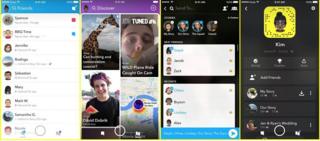 Snapchat has begun a full-scale rollout of the redesigned version of its app to UK-based users
The revamp is intended to separate social interactions with friends from third-party content.
The new design comes as Snap stocks soared by nearly 50% on Wednesday afternoon - the day after it announced strong fourth-quarter results.
But the redesign has not gone down well with users, with up to 83% of reviews on the App Store being negative.
Changes to the app's Discover feature will make it easier for users to find content from publishers, according to Snap.
A personalised news feed and an auto-advance feature that takes viewers from one story directly to the next are also part of the redesign.
Other updates include a Friends Page that brings Stories, Bitmojis and Chats - all different mediums for peer-to-peer communication in the app - together into one view.
A Snapchat spokesman said: "Updates as big as this one can take a little getting used to, but we hope the community will enjoy it once they settle in."
The social app now has 187 million daily users, after adding 8.9 million at the end of 2017.
Revenue was up as well, reaching $287.5m (£207m) in the past quarter - a 72% year-on-year increase.
The company's revenue-sharing advertising has also seen a big jump.
Snap pays publishers creating content for Discover a portion of the ad revenue it makes from their media.
It paid publishers more than $100m (£72.05m) in 2017, a $42m (£30.26m) increase from 2016.
And the number of media partners working with the company has grown fivefold in the past three years, according to Snap.