Google-Nest merger raises privacy issues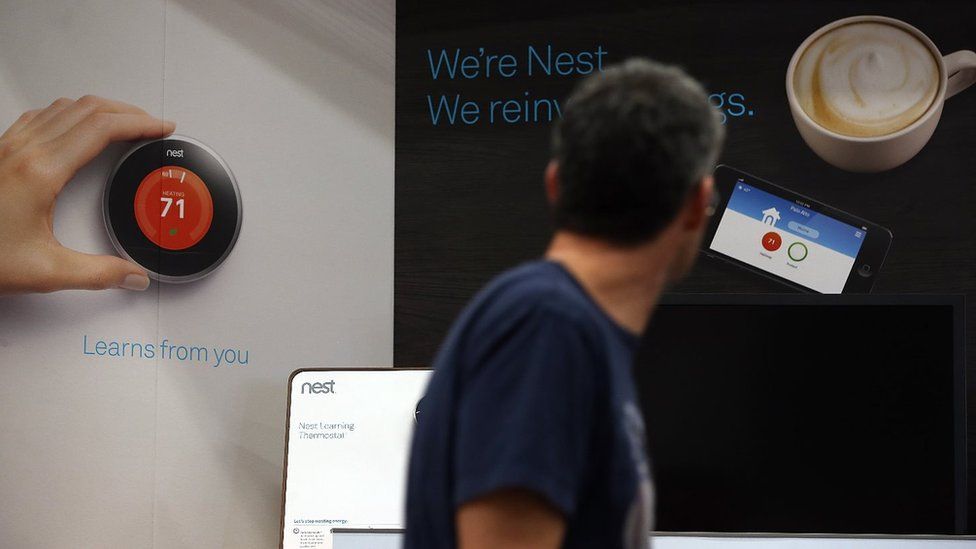 Tech giant Alphabet is merging its Google and Nest divisions together.
Nest had run as a standalone unit since its $3.2bn (£2.3bn) takeover in 2014. Its smart home products benefit from gathering data about its users.
Nest previously pledged the data would be kept separate from Google's other operations. Privacy campaigners have raised concerns at the reorganisation.
But Google has said it will be "transparent" about any changes that might be made.
Nests's products include:
internet-connected security cameras for inside and outside the home
thermostats that use motion-detecting sensors to detect when the owners are about
a camera-equipped doorbell
a movement-detecting alarm system and smoke detector
In addition, the division's app can be set to gather data from other products - including cars, ovens, fitness trackers and even sensor-equipped beds - to help "save energy... and stay safe".
In July 2015, Tony Fadell - the co-founder and former chief of Nest - told the BBC that consumers could be reassured that efforts had been made to ringfence this data and prevent it being mixed with all the other information Google gathered about the public.
"When you work with Nest and use Nest products, that data does not go into the greater Google or any of [its] other business units," he explained.
"We have a certain set of terms and policies and things that are governed.
"So, just when you say we may be owned by Google, it doesn't mean that the data is open to everyone inside the company or even any other business group - and vice versa.
"We have to be very clear on that."
When the BBC asked Google if that promise would be respected in the future it provided the following statement:
"Nest users' data will continue to be used for the limited purposes described in our privacy statement like providing, developing, and improving Nest services and products," it said.
"As we develop future plans and future product integrations, we will be transparent with users about the benefits of those integrations, any changes to the handling of data, and the choices available to consumers in connection with those changes."
The firm also provided a link to its current privacy statement, which states that it will provide notice of any changes on its website or by contacting customers' directly.
The Big Brother Watch campaign group said it was concerned by the development.
"Google already harvests an incredible amount of detailed information about millions of internet users around the globe," said director Silkie Carlo.
"Now, Google is becoming embedded in the home, through 'smart' soft surveillance products.
"Adding data from Nest's home sensors and security cameras will significantly expand Google's monopoly on personal data. Many customers will be justifiably anxious about Google's growing, centralised trove, especially given that its business model relies on data exploitation."
Another company watcher said there could be benefits from allowing Google engineers working on the Home smart speaker and other Assistant-enabled hardware to work alongside their Nest counterparts.
But he acknowledged that some device owners would still be concerned.
"It would be naive to expect that as Nest is folded into the bigger Google entity, that there aren't efforts to bring its platforms and all of the intelligence together," commented Ben Wood from the CCS Insight consultancy.
"It will be positioned as enhancing the products, but for some customers that may be something that they feel uncomfortable about."
Related Internet Links
The BBC is not responsible for the content of external sites.