TalkTalk and Openreach: Is the UK full-fibre fit?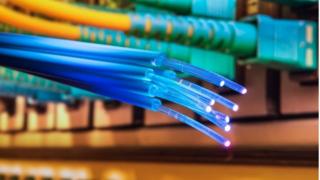 More good news on full-fibre broadband - at least that seems to be the message from TalkTalk.
The telecoms company says it is preparing a big investment in the infrastructure to roll out a fibre-to-the-home service to more than three million homes and businesses.
The announcement comes just days after BT's Openreach unveiled its plan to bring full-fibre connections to three million premises by 2020.
Both the regulator, Ofcom, and the government welcomed the arrival of competition in the provision of ultrafast broadband, with the Culture Secretary, Matt Hancock, calling it "a great step towards making Britain full-fibre fit for the future".
Still, there are a few nagging questions.
TalkTalk, backed by its joint venture partner Infracapital, is planning to reach homes in what it describes as "mid-sized" towns and cities.
That means it's unlikely to be offering fibre to the farm - or indeed the mid-sized village - any time soon. So, there is a risk that the countryside will see its digital divide with urban Britain widen further.
Then there is the danger that we will see more and more companies digging up the same streets to lay fibre, just as rival cable TV operators did in the 1980s . That did not end well for investors or, you could argue, for customers.
When I caught up with TalkTalk's chief executive, Tristia Harrison, she was keen to emphasise that there would be little overlap with BT, whose full-fibre plan is aimed mainly at big rather than mid-sized cities.
On the rural question, she pointed out that TalkTalk's partner Infracapital was also a major investor in Gigaclear, whose mission is all about connecting up rural Britain.
But she was clear that the UK as a whole had fallen behind in fast broadband provision.
"The only way we're going to see full fibre at scale - it's just 3% of the UK at the moment - is through competition," she said.
She said TalkTalk had learned a lot about the economics of rolling out fibre-to-the-home from its joint venture in York, which has reached 14,000 homes and is now planning to get its 1Gbps service to another 40,000 premises.
TalkTalk is beginning to use BT's ducts and poles for its network, after Ofcom chivvied the telecoms giant to open them up to rivals.
But Ms Harrison admits that most of the work will continue to involve digging up streets, albeit using the less disruptive "micro-trenching" technique TalkTalk has pioneered in York.
During the next few years, companies ranging from BT to TalkTalk, from CityFibre to Hyperoptic, will be building faster broadband networks across the UK.
In some places, those networks will overlap, and there must be a risk that some of the operators will struggle to stay in business.
The alternative would be to split off Openreach fully from BT and get it to build a single fibre-to-the-home network as a public utility, much like the national grid.
But that decision would have had to be taken at least a decade ago - the UK's broadband future now depends on competition.