'Drone crash' starts forest fire in Arizona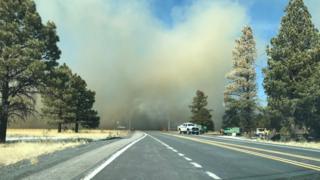 A drone owner has been charged with starting a fire that destroyed 300 acres (1.2 sq km) of grassland in Arizona's Coconino national forest.
A drone reportedly caught fire after it crashed, igniting dry grasses on an area called Kendrick Park, near Flagstaff.
About 30 firefighters brought the blaze under control within a day.
If found guilty, the drone's owner could face a fine, community service or a jail sentence.
Last year, a homeless man whose cooking fire accidentally set light to more than 282 acres of Arizona forest received a 12-month jail term and was fined $12,000 (£8,660).
Drone conflict
While tackling the incident last week, firefighters pre-emptively set light to grasslands surrounding a local landmark - the Chapel of the Holy Dove - to ensure the small church was not threatened by the flames.
Warnings were issued to drivers in the area as dense smoke from the fire made driving conditions difficult on roads through the Kendrick Park region.
While it is legal to fly a drone in a US national forest, there are strict regulations governing when and where they can be flown.
Drones must not be flown in wilderness areas nor over areas where wildfires are active.
In 2017, helicopters helping to tackle a fire in the same forest were hampered by a drone taking pictures of the blaze.
The pilot of that unmanned craft was not identified.
Firefighting planes and helicopters helping tackle seasonal fires in other regions have also been temporarily grounded for fear of a collision with a drone.