Apple-approved Mac Store app mined crypto-coins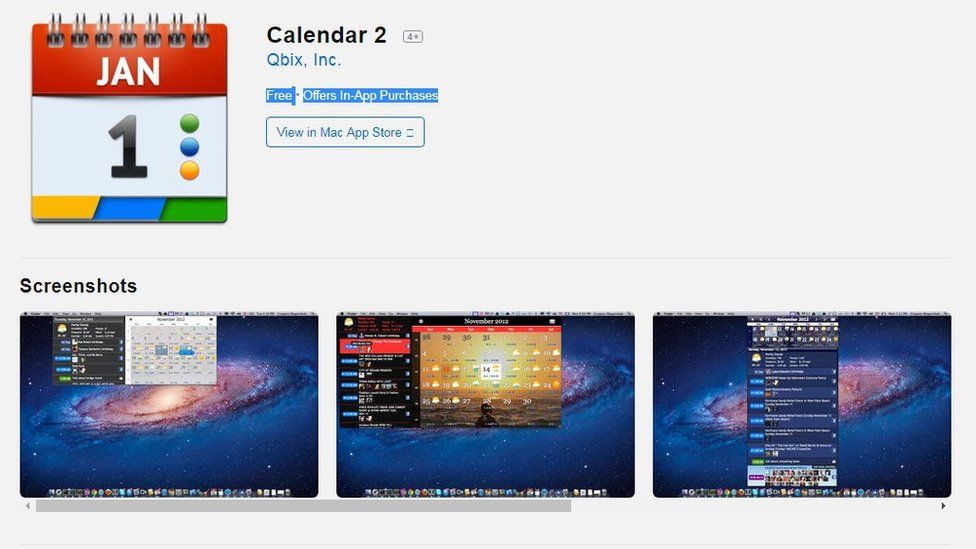 Annoyed users have forced an application to stop mining crypto-coins on Apple's Mac computers.
Calendar 2 was available via the official Mac App store and gave extra features to anyone who let the mining code run.
But users voiced complaints about the software as bugs in it made their machines run slowly.
There had also been surprise that Apple had allowed the feature to be offered.
The US tech giant has not commented.
Calendar 2's creator has now disabled the code, citing complaints and worries about the "ethics" of mining. He later acknowledged that Apple had forced the app's temporary removal from its store on the basis that it was putting unnecessary strain on computers' batteries and processors.
According to the developer Qbix's site, more than 757,000 people use its time-management program - although that figure includes earlier versions of the software that did not include the mining component.
Calendar 2 is marketed as a more feature-laden alternative to Apple's own built-in calendar software.
Last week the app was updated to include code that generated coins for the Monero crypto-currency.
The updated app also presented users with options on how they wanted to pay for Calendar 2, and they could decide to block the mining code.
Users who opted to let the code run got some of the features in Calendar 2 that were previously only available to people who paid $18 (£12.90) for the full version.
As values of crypto-currencies have risen, many illegitimate coin miners have surreptitiously been placed on popular websites and some apps and other programs.
Relatively few software-makers have opted to include the code openly in their applications.
Crypto-currencies work by harnessing lots of computers to verify transactions and produce or "mine" new coins.
The updated version of Calendar 2 started to generate complaints by people who said the option to opt out did not work and that the mining code sucked up so much of their computer's processing power that other applications slowed down.
He added that the bugs "caused many issues for our users" with a lot of them calling for it to be removed.
Soon after, Qbix issued a statement saying it would remove the mining code in the next update.
It said this decision came about because of the time it would take the partner who produced the mining code to fix the bugs, because of the damage using it was doing to Qbix's reputation and more general worries about the impact of the power-hungry coin-mining world.