Facebook privacy settings revamped after scandal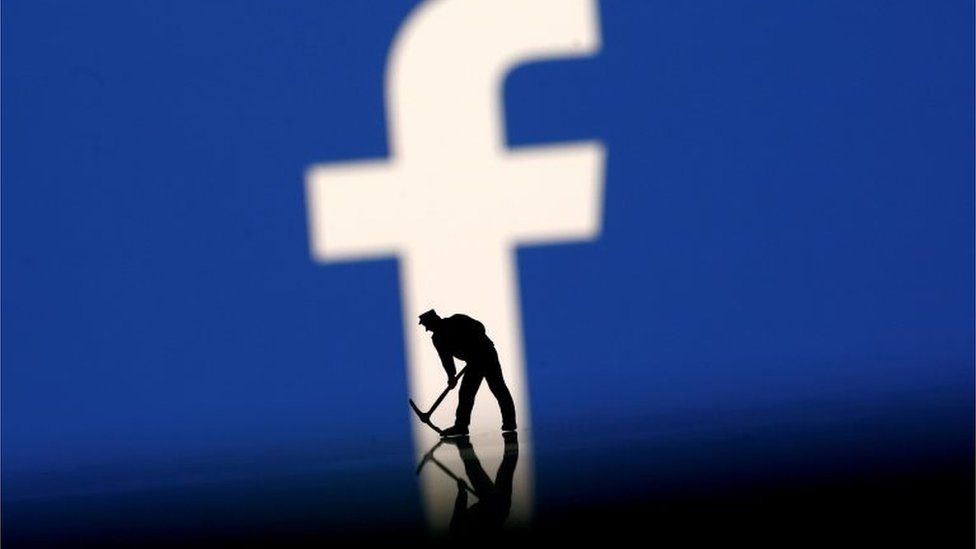 Facebook says an overhaul of its privacy tools will make it easier for people to find and edit the personal information the company holds.
They follow intense criticism of the firm after it emerged that data about 50 million users had been harvested and passed on to a political consultancy.
However, Facebook says the revamp was already planned ahead of the scandal in order to comply with new EU rules.
The announcement coincides with a fresh dispute with New Zealand's privacy watchdog, which has accused Facebook of being in breach of local laws.
Facebook's chief privacy officer acknowledged the damage which the Cambridge Analytica revelations had caused her company, at the start of her blog.
"The last week showed how much more work we need to do to enforce our policies, and to help people understand how Facebook works and the choices they have over their data," wrote Erin Egan.
"We've heard loud and clear that privacy settings and other important tools are too hard to find, and that we must do more to keep people informed."
The changes fall into three broad categories:
a "simplified" settings menu. At present mobile users face a list of about 17 different options, each of which is marked by short title. The new version regroups the controls and adds descriptions in an effort to make it clearer what each involves
a new privacy shortcuts menu. The dashboard brings together what the firm believes are the most critical controls into a single place. It suggests this will make it faster for people to do things such as review the posts they have shared or reacted to, and to limit the information used to target ads at them
revised data download and edit tools. A new page called Access Your Information allows users to review past interactions with the site - including the things they have "liked" and the comments they have posted - with the option to make deletions. In addition, members will be able to download specific categories of data - including their photos - from a selected time range, rather than only being able to export a single large file that might take hours to obtain
Although it is not mentioned in the blog, the BBC understands the firm also intends to make the link to fully delete an account more prominent.
The action precedes the EU's General Data Protection Regulation (GDPR), which comes into force on 25 May. The new law toughens the requirements on how organisations handle the public's data, as well as imposing harsher penalties for breaches.
By Rory Cellan-Jones, Technology correspondent
Facebook insists this move - to give people greater visibility of their privacy settings and an easier way to delete data - has been in the works for months, but the company knows how urgent this has become.
"Facebook recognises it's clearly lost people's trust and it needs to get to work on regaining that," Stephen Deadman, its global deputy chief privacy officer told me.
Now this sounds like a useful update to what any user will tell you is a very confusing system. Try to find how to stop your phone from uploading its contacts to Facebook, for instance, and you will go on a long and complex journey.
But you will still need to do a lot of clicking before you can find out whether that quiz you filled in last week has told Facebook and your supermarket that you are pregnant.
The question is whether the social network should be more proactive in warning people about the data they are sharing - perhaps sending an alert to all those people who are almost certainly unaware that they are still uploading their phone contacts to the company.
"You're in control of privacy and security on Facebook" is the message on the new one-stop shop - but maybe busy users just do not have the time to take back control without a lot more nudging.
Close to $80bn (£56bn) has been wiped off Facebook's market value since 16 March, when it revealed it had received reports that Cambridge Analytica had not destroyed data about millions of its US members, as demanded several years previously.
The UK-based consultancy has denied using the data to aid President Trump's election campaign and claims it had deleted the information. However, the British company suspended its chief executive following other allegations.
Since then, Facebook's privacy practices have come under fresh scrutiny.
New Zealand's privacy commissioner is the latest to have voiced criticism, accusing the firm of breaking the law by refusing to provide data about a dispute involving one of its citizens.
The man involved had wanted access to information about what others had written about him.
"The social media company said the Privacy Act did not apply to it and it did not have to comply with the commissioner's request to review the information requested by the complainant," the watchdog said in a statement.
Facebook has responded saying: "We are disappointed that the New Zealand Privacy Commissioner asked us to provide access to a year's worth of private data belonging to several people and then criticised us for protecting their privacy."
Other recent developments include:
Media group Playboy Enterprises has deleted its Facebook accounts citing privacy concerns. The comedian Will Ferrell has said he will do likewise
three US-based users have sued Facebook over claims its collection of their call logs and text messages had violated their privacy
the firm has delayed the launch of its own voice-controlled smart speaker, according to the Bloomberg news agency. A spokeswoman declined to comment on the report when questioned by the BBC
Related Internet Links
The BBC is not responsible for the content of external sites.