Tommy Robinson banned from Twitter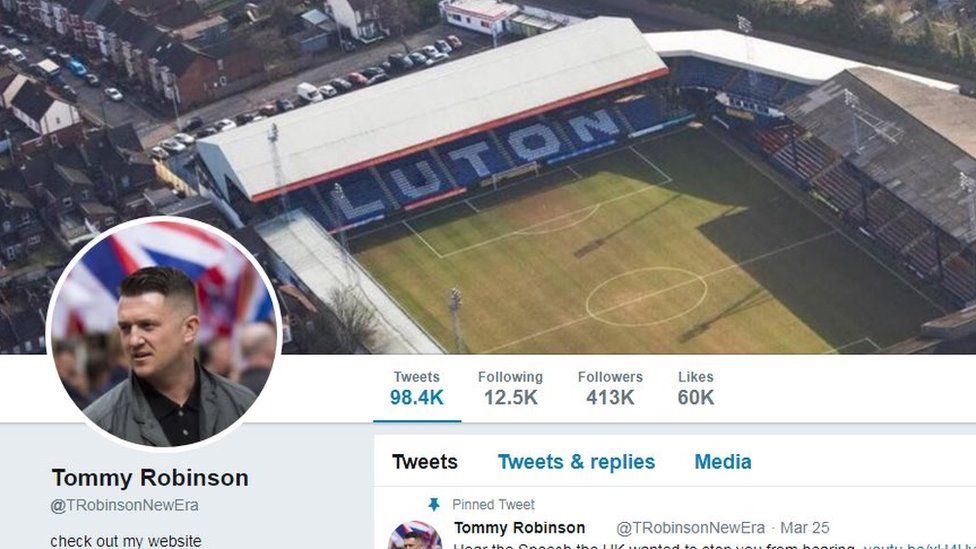 Tommy Robinson - ex-leader of the English Defence League - has been banned from Twitter.
His account is marked as being "suspended", but the BBC has learned that the US company has decided to permanently revoke his access.
Twitter declined to comment, but it is understood the decision was taken after Mr Robinson was judged to have breached its "hateful conduct" policy.
It had previously temporarily suspended the activist several times.
Mr Robinson, whose real name is Stephen Yaxley-Lennon, left the EDL in 2013.
Most recently, Twitter had blocked his account for a week at the start of March.
He said at the time that the reason was that he had posted that "90% of grooming gang convictions are Muslims".
The social network had removed his blue verification tick four months earlier.
Mr Robinson's @TRobinsonNewEra account had about 413,000 followers at the time it was blocked.
In addition, Twitter has acted against another account - @tommysnewspage - which had also been associated with the 35-year-old.
Mr Robinson continues to operate a Facebook page, a YouTube account and a personal website.