HTC's Tom Daley swimming pool selfie advert banned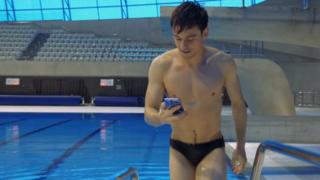 An advert showing British Olympic diver Tom Daley using a smartphone at a swimming pool has been banned on the grounds that similar behaviour by consumers would damage the device.
HTC has promoted the ad on social media since mid-2017.
But an investigation by the UK's advertising watchdog discovered that the device's own instructions said the phone should not come into contact with pool water.
HTC apologised on Thursday.
The Taiwanese firm also removed the promotion from its YouTube channel.
In a statement, it said: "We are disappointed by the ASA ruling, but have removed the video from our sites.
"We apologise if anyone felt misled as to the handset's water resistant capabilities."
The advert was designed to highlight the HTC U11's squeezable sides, which - when pressed - trigger a photo from its front "selfie" camera.
It showed Mr Daley repeatedly jumping from the highest platform at a swimming pool, and taking images of himself as he fell.
In addition, the athlete was shown using the phone as he climbed out of the water.
HTC defended the campaign on the grounds that the device's IP67 waterpoof rating meant it could be briefly submerged up to a depth of 1m (3.3ft).
It said that because Mr Daley had entered the water with his feet and held the phone above his head, the phone had not gone any deeper.
Furthermore, an on-screen warning had told viewers not to "try this stunt".
But the Advertising Standards Authority said that a normal member of the public attempting something similar would be unlikely to be able to prevent their phone sinking below 1m.
The watchdog also noted that HTC had acknowledged that "there were too many variations of water temperature and chemical composition" to be able to say that the U11 could be used in most swimming pools.
And it highlighted that the device's own instructions said it should not be intentionally submerged in water, and were that to happen by accident its buttons should not be pressed immediately afterwards.
As a result it judged the ad to have exaggerated the phone's capabilities in a misleading manner.
Still online
Although the original complaint had been about the appearance of the ad on Facebook, the ASA said that other posts must now be dealt with.
"Our ruling against HTC applies across media," a spokesman told the BBC.
"We expect HTC to ensure its ad is removed from all media and we'll be contacting the company to remind them of that."
The BBC understands that the firm intends to remove the ad from all its global accounts by the end of the day.
The ASA also issued other tech-related rulings among its latest decisions, including: