South Korean university boycotted over 'killer robots'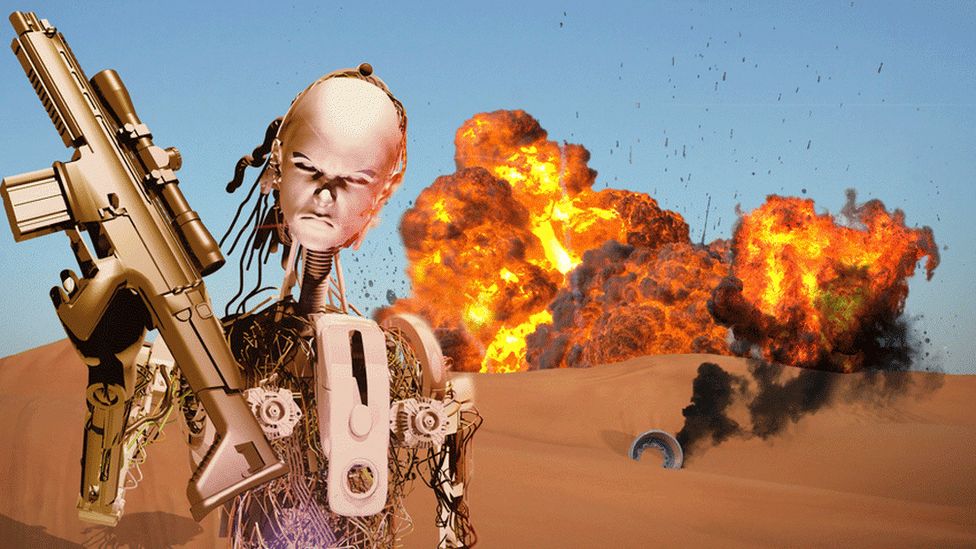 Leading AI experts have boycotted a South Korean university over a partnership with weapons manufacturer Hanwha Systems.
More than 50 AI researchers from 30 countries signed a letter expressing concern about its plans to develop artificial intelligence for weapons.
In response, the university said it would not be developing "autonomous lethal weapons".
The boycott comes ahead of a UN meeting to discuss killer robots.
Shin Sung-chul, president of the Korea Advanced Institute of Science and Technology (Kaist), said: "I reaffirm once again that Kaist will not conduct any research activities counter to human dignity including autonomous weapons lacking meaningful human control.
"Kaist is significantly aware of ethical concerns in the application of all technologies including artificial intelligence."
He went on to explain that the university's project was centred on developing algorithms for "efficient logistical systems, unmanned navigation and aviation training systems".
Prof Noel Sharkey, who heads the Campaign to Stop Killer Robots, was one of the first to sign the letter and welcomed the university's response.
"We received a letter from the president of Kaist making it clear that they would not help in the development of autonomous weapons systems.
"The signatories of the letter will need a little time to discuss the relationship between Kaist and Hanwha before lifting the boycott," he added.
Until the boycott is lifted, academics will refuse to collaborate with any part of Kaist.
Next week in Geneva, 123 member nations of the UN will discuss the challenges posed by lethal autonomous weapons, or killer robots, with 22 of these nations calling for an outright ban on such weapons.
"At a time when the United Nations is discussing how to contain the threat posed to international security by autonomous weapons, it is regrettable that a prestigious institution like Kaist looks to accelerate the arms race to develop such weapons," read the letter sent to Kaist, announcing the boycott.
"If developed, autonomous weapons will be the third revolution in warfare. They will permit war to be fought faster and at a scale greater than ever before. They have the potential to be weapons of terror.
"Despots and terrorists could use them against innocent populations, removing any ethical restraints. This Pandora's box will be hard to close if it is opened."
South Korea already has an army of robots patrolling the border with North Korea. The Samsung SGR-A1 carries a machine gun that can be switched to autonomous mode but is, at present, operated by humans via camera links.