Tech Tent: Questions for Zuckerberg and Cambridge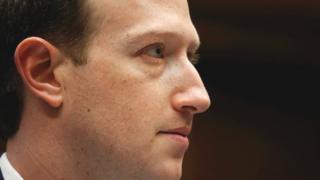 It was a two-day interrogation with dozens of questions - some of them acute, some of them rambling, a few quite bizarre.
On the Tech Tent podcast this week, we zero in on what Mark Zuckerberg failed to answer during his US congressional appearances, about just how much data Facebook collects - and the control users have over it.
We also try to find out whether something bad is going on at University of Cambridge when it comes to academic use of Facebook data, as Mr Zuckerberg suggested.
Listen live every Friday at 15.00 GMT on the BBC World Service
The single most uncomfortable moment for Facebook's founder was probably when Senator Dick Durbin asked him whether he would share with the committee the name of the hotel where he had spent the night in Washington.
After a long pause and an embarrassed grin he answered "umm...no!"
It made the point, according to Senator Durbin, that he was more cautious about his privacy than the average Facebook user who "checks in" without a thought.
The following day, he was asked by Congressman Ben Lujan about the data collected on people who had never even signed up to Facebook. Again, Mr Zuckerberg appeared uncomfortable. He had never heard of the widely used term "shadow profiles" to describe this kind of data collection.
Then the congressman took us down an Alice in Wonderland-style rabbit hole, where people who do not use Facebook are told to log in to their Facebook accounts to find out what data Facebook holds on them. "We've got to fix that," he said.
Frederike Kaltheuner from Privacy International tells Tech Tent that this kind of data collection, with users unaware of what is happening, is all too common - and Facebook is far from the only culprit.
We also examine the issue raised by Mr Zuckerberg when he was asked whether he planned to sue either Dr Aleksandr Kogan or Cambridge University over the misuse of Facebook data.
'Stronger action'
He talked of a whole programme at the university, where a number of researchers were building similar apps to that made by Dr Kogan for Cambridge Analytica.
"We do need to know whether there was something bad going on at Cambridge University overall that will require a stronger action from us," he said.
The university fired straight back. Mr Zuckerberg should have known that perfectly respectable academic research into social media had been going on, some of it with the involvement of Facebook employees. And as for Dr Kogan, the university had written to Facebook about its allegations against him but had not received a reply.
On Wednesday morning, before Mr Zuckerberg's remarks, I visited the Cambridge Psychometrics Centre and found some acknowledgement of the harm caused to the university's reputation.
The Centre, which is located in the Judge Business School, was drawn into the controversy when Facebook banned Cubeyou, another firm that had developed a personality quiz in collaboration with the university's academics.
Business development director Vesselin Popov insisted it was opt-in only and was in line with Facebook's policies at the time, so was not at all like the app developed for Cambridge Analytica by Dr Kogan.
He told me that Dr Kogan's work had raised issues for the university: "Even if an academic does something - quote unquote in their 'spare time', with their own company - they still ought to be held to professional standards as a psychologist."
Dr Kogan and the Cambridge Psychometrics Centre are in dispute over whether a row over his personality app - and the involvement of the centre's academics - was about ethics or money. I wrote another article about that issue on Friday.
But the two sides agree that Facebook needs to focus on what commercial businesses do with user data, rather than academics.
"It's very clear that Cambridge Analytica and these kinds of companies are the product of an environment to which Facebook has contributed greatly," says Mr Popov. "Although they might be making some changes today in response to public and regulatory pressure, this needs to be seen as an outcome of very permissive attitudes towards those companies."
With an audit of thousands of Facebook apps under way, we may hear more in the coming weeks about just how cavalier some companies have been with our personal data.