Google's SMS replacement ready to launch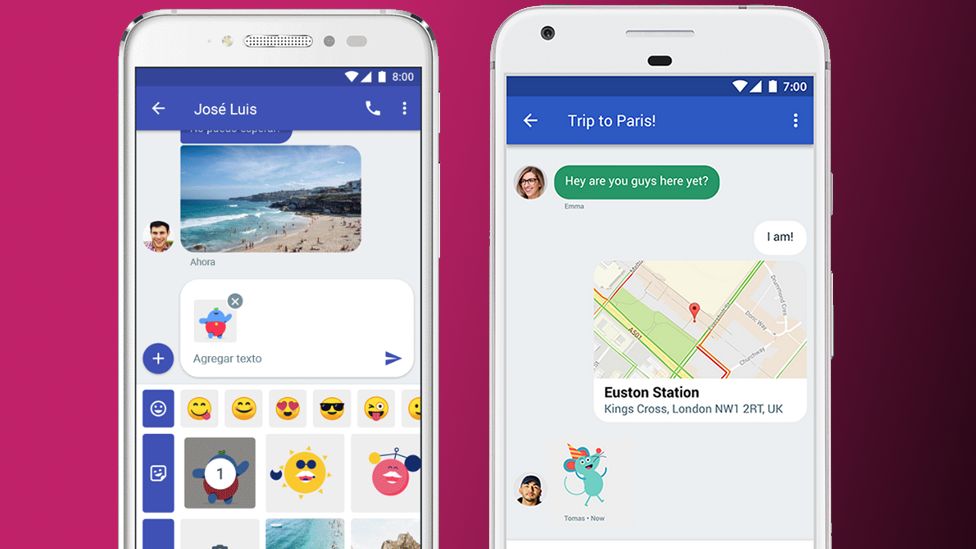 Google has started the global roll-out of its new Chat messaging service, which is designed to replace SMS text messages on Android phones.
Chat has features such as group texts, videos, typing indicators and read receipts, which are not available when sending SMS texts.
Chat will be integrated with the default messages app on Android phones.
However, it will be up to mobile operators to enable the service and it does not offer encrypted messages.
The new system has been in development for several years, but is now beginning to appear on Android phones.
SMS - the short message service - was widely adopted in the 1990s. It lets mobile phones exchange basic 160-character text messages over the mobile network.
Modern messaging apps offer much more advanced features and send messages over the internet rather than using SMS.
However, the default messaging app on Android smartphones - Messages - is still a comparatively basic SMS client.
Google has tried several times to launch its own feature-rich mobile messaging app, but its attempts have failed to win over a large audience.
On Thursday, the company said it was "pausing" development of its latest effort - Allo - which was launched in 2016.
Google's rivals such as Facebook Messenger and WhatsApp support advanced features such as typing indicators and high-resolution pictures. Apple's iPhones have the similarly feature-rich iMessage service built-in.
This time, rather than try to launch yet another messaging app, Google has been working to integrate a new messaging standard with its Android operating system.
Mobile operators, phone manufacturers and app-makers will be able to use the new technology to develop messaging apps that are compatible with one another.
The standard is known as the Universal Profile for Rich Communication Services (RCS) - but it will be given the more consumer-friendly name of Chat when it is rolled out to Android devices.
To develop Chat, Google has worked with more than 50 mobile networks including Vodafone, T-Mobile and Verizon and manufacturers such as Samsung, LG and Huawei.
Once Chat rolls out worldwide, Android users will be able to take advantage of the advanced features when messaging other Android users.
As with Apple's iMessage system, if the intended recipient does not have a Chat-compatible device, messages will be sent via the old SMS system instead.
Google has stressed that Chat is not a new Google app. Since RCS is a communications standard, it is up to individual mobile networks and phone-makers to switch on the functionality.
Since messages are sent over the internet, they will not use up a customer's SMS text message allowance. However, a mobile operator could in theory charge customers a separate fee to use Chat.
US mobile giant Sprint is already providing Chat functionality, while Rogers in Canada has also switched on the service.
Microsoft is one of the companies that has supported RCS but it has not confirmed whether it will add Chat functionality to Windows 10. Apple has not signed up to the project.
Samsung, which already replaces Android's default messaging app on its devices, will integrate RCS with its own software.
Security experts have warned that Chat does not offer encrypted communication. As with SMS, Chat messages are not scrambled as they travel across the mobile network.
Google's Anil Sabharwal told technology news site The Verge that "RCS continues to be a carrier-owned service", which means that messages can still be legally intercepted.
The company said it expected the functionality to be widely available on Android phones within two years.