Gun emoji disarmed as Microsoft follows Google toy switch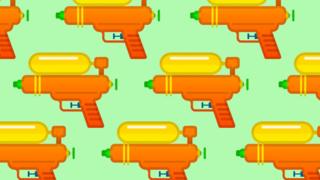 Microsoft has become the last of the leading emoji providers to replace its image of a handgun with a toy.
The firm has tweeted that it was "evolving" its designs to better reflect its values, and intended to substitute a graphic of a revolver with that of a water pistol.
The announcement came shortly after Google revealed a similar move for the Android operating system's gun emoji.
Apple, Samsung and Twitter have already made similar changes.
Facebook has also committed itself to switching to a squirt gun.
Apple led the way in 2016 in the wake of a series of shootings in the US.
It was criticised at the time for deviating from the emoji standard, which ensures the symbols carry the same meaning across rival manufacturers' devices and apps.
"In the history of running Emojipedia, I have never seen an emoji change so poorly received," reported the emoji reference website at the time, adding that the move would likely cause confusion.
Days later, Microsoft announced it was doing the reverse. Until then, Windows 10 had featured a cartoon-like space gun, but the operating system's Anniversary Update switched the image to that of a more realistic-looking revolver.
While the emoji standard describes what each symbol should look like, companies are free to use their own designs.
Critics have warned that deviating from the norm may lead to messages being misunderstood.
But while Microsoft's latest move might be seen as it coming back into the fold, the reaction on social media has been mixed.
WhatsApp replaced its gun with a water pistol in 2017, while Samsung and Twitter followed suit in 2018.
Google's update is expected to appear in Android 9.0 - the next version of its mobile operating system.