Amazon Alexa to reward kids who say: 'Please'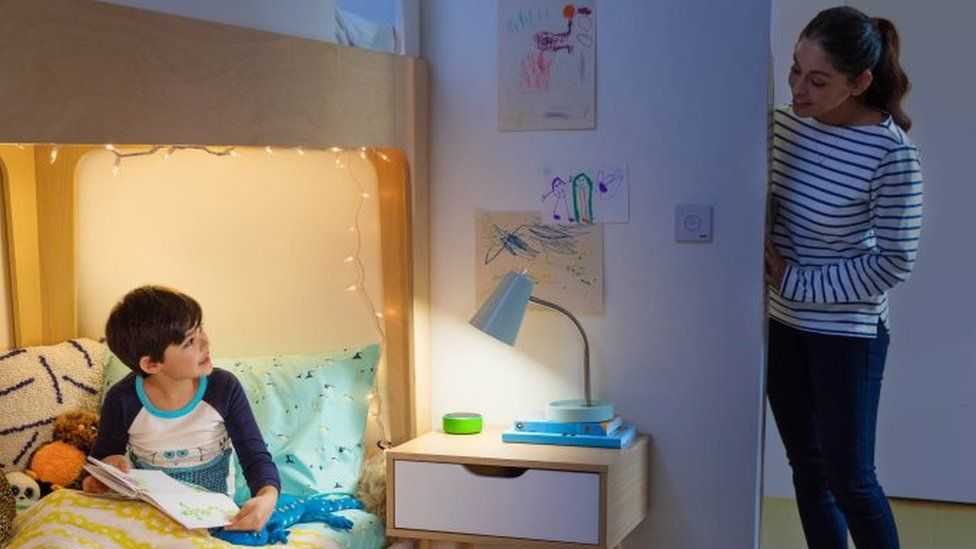 Amazon's smart assistant Alexa can now be made to encourage children to say: "Please," and: "Thank you," when issuing it voice commands.
The new function addresses some parents' concerns that use of the technology was teaching their offspring to sound officious or even rude.
In addition, parents can now set time limits on when requests are responded to, and can block some services.
The move has been welcomed by one of Alexa's critics.
In January, the research company ChildWise published a report warning that youngsters that grew up accustomed to barking orders at Alexa, Google Assistant or some other virtual personality might become aggressive in later dealings with humans.
"This is a very positive development," research director Simon Leggett told the BBC.
"We had noticed that practically none of the children that we had talked to said they ever used the words 'please' or 'thank you' when talking to their devices.
"Younger children will enjoy having the added interactivity, but older children may be less likely to use it as they will be more aware it's a robot at the other end."
The politeness feature - which has been branded Magic Word - encourages children to say: "Please," and: "Thank you," by acknowledging use of the terms.
So, for example, if the child asks: "What will the weather be today please?" Alexa will add to its response: "Thanks for asking so nicely."
Likewise, once Alexa has completed a task, if the child says: "Thank you," it will prompt one of several follow-ups, including "No worries," and "You're welcome."
Toymaker Mattel had previously considered going further, with its aborted smart-speaker, Aristotle.
Amazon, however, said it had been advised that this approach would backfire.
"We talked to third-party child development experts as we were building this feature," a spokeswoman told the BBC.
"They said that if you are going to try and offer them guidance, then positive reinforcement is the best way to do that as it's not punitive.
"They had found that saying, 'You will not get this if you do not say please,' is not useful with kids and doesn't work."
She added that Amazon intended to see how parents and children reacted to the feature, and if it was welcomed would probably extend its capabilities.
The good manners facility is part of a host of new child-centric tools unveiled for Alexa - some of which will require a subscription fee.
The basic "free" FreeTime package includes the abilities to:
set bedtime hours during which it will not accept commands
switch off certain services, such as voice-purchasing or listening to news bulletins
block songs with explicit lyrics
A $2.99 (£2.15) monthly fee unlocks added functions, including:
wake-up alarms featuring well-known cartoon characters
access to several hundred child-focused audio books
exclusive use of premium software - known as skills - from brands including Disney and National Geographic
This offers a way for the company to make money from its Echo smart-speakers, which it sells for roughly the same price they cost to develop and manufacture.
In addition, Alexa's voice-recognition software has been tweaked to account for the fact children have higher-pitched voices than adults, and will soon respond to "Awexa" to help those that cannot yet pronounce the letter L.
"It is commendable that Amazon is trying to get kids to say their please and thank yous, but for most parents it will be the content controls and other kid-centric features that will be the most appealing aspect of the new offering," said Ben Wood, a technology consultant at CCS Insight.
Related Internet Links
The BBC is not responsible for the content of external sites.