Video game loot boxes declared illegal under Belgium gambling laws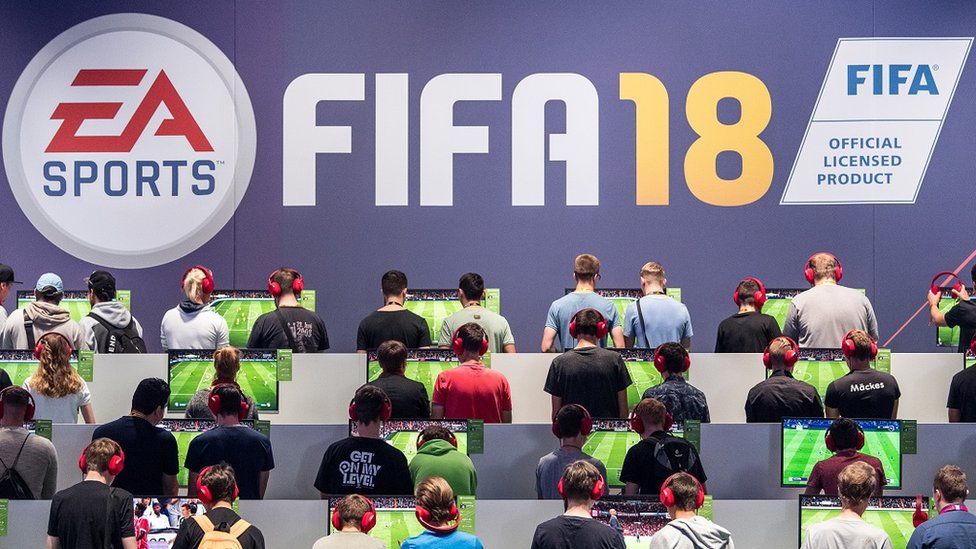 Video game loot boxes are "in violation of gambling legislation", according to the Belgium Gaming Commission.
Loot boxes give random rewards and can be acquired either through gameplay or by spending real cash.
Those that can be bought for real money must now be removed from video games in Belgium.
Companies like EA, who publish the popular Fifa series, could now be subject to criminal law.
Failure to comply may lead to a fine of €800,000 (£697,000) and up to five years in prison for the publishers.
Belgium's Minister of Justice, Koen Geens, was keen to focus on how children are confronted with loot boxes, calling the mix of gaming and gambling "dangerous for mental health".
The Belgian decision is in contrast to the UK and US, who have both ruled the loot boxes do not contradict their gambling regulations.
"We strongly believe that our games are developed and implemented ethically and lawfully around the world, and take these responsibilities very seriously," he added.
Players can unlock special characters, equipment and vehicles in some games using loot boxes, which can be bought using real money.
As loot boxes are random, people could spend £10 and get something useful, or spend £100 and get nothing useful at all - similar to how slot machines work.
They have become ubiquitous with many mainstream video games, and have appeared in titles including Call of Duty, PlayerUnknown's Battlegrounds and Rocket League.
The Belgium Gaming Commission investigated four games: Fifa 18, Overwatch, Counter-Strike: Global Offensive and Star Wars Battlefront II.
This criticism focused around a post by EA on community news site Reddit, which became the most downvoted in the site's history, when the company appeared to call micro-transactions a way to "provide players with a sense of pride and accomplishment for unlocking different heroes".
He criticised the "predatory practices" of developers, specifically targeting Battlefront II by calling it a "Star Wars-themed online casino designed to lure kids into spending money".
US authorities decided that games using loot crates did not constitute gambling because players do get some kind of reward when they acquire the boxes.
While in the UK, the Gambling Commission took a similar stance and said the boxes did not come under its control because rewards were usable only in the game.
But the Belgium Gaming Commission has disagreed, instead focusing on whether the loot boxes constitute a "game of chance" - the use of a game element which involves a bet that can by chance lead to profit or loss.
It cited a series of issues with how loot boxes function, such as the use of virtual currency which can be purchased for real money, and the way that some loot boxes make players think they will gain an advantage despite their random contents.
Overwatch, CS:GO, and FIFA 18 must remove loot boxes in Belgium, or the publishers can face up to five years in jail.

This is probably the biggest development in international law on loot boxes so far. They're going to HAVE to completely remove them for that region.

— Ryan Brown 🎮 (@Toadsanime) April 25, 2018
'Taking advantage of kids'
Mr Geens has said that he would meet members of the video game industry to discuss the next step.
It is not clear what this will be, though the report specifically states that "the loot boxes must be removed" to come into line with gambling legislation.
The move has been widely praised online, becoming the most upvoted topic on Reddit's news subreddit in April 2018 with one person calling it "brilliant" and praising it as a way to "avoid taking advantage of kids with fancy and shiny in-your-face computer graphics and images".
Another said they "hoped more countries will take note", but some have suggested that video game publishers may simply stop selling their games in Belgium altogether.
Some people have been more critical of the decision, suggesting that "Pokemon and other trading cards" would also be illegal under these rules.
But others pointed out that the Belgium Gaming Commission's definition specifically requires there to be "a game element" in opening the crate, which differentiates loot boxes from trading cards.
Meanwhile, one person who was in favour of the decision called it "fantastic" and suggested that "Belgium will have a sense of pride and accomplishment for making such a wise decision".
By Tom Gerken, UGC & Social News