Sinclair Spectrum designer Rick Dickinson dies in US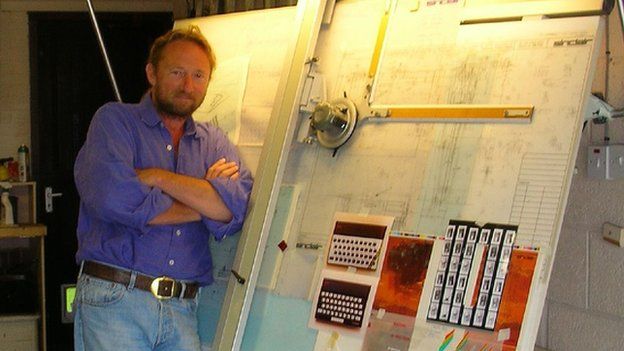 Rick Dickinson, the designer of Sinclair computers, has died in the US while receiving treatment for cancer.
The British designer, thought to be in his 60s, worked in-house for Sinclair Research and oversaw the creation of its home computers in the 1980s.
He was responsible for the boxy look of the ZX80 and ZX81 and the Bauhaus-inspired appearance of the Spectrum.
Mr Dickinson also helped to develop the technologies for the UK company's touch-sensitive and rubber keyboards.
He was recently linked to a crowd-funded project by Retro Computers to turn the Spectrum into a handheld computer. Some of the early reference designs for the machine were drawn up by him.
In an interview with the BBC in 2012, Mr Dickinson said the development of the keyboards had been driven by a desire to cut costs. The touch-sensitive mats used in the Sinclair machines were much cheaper and simpler than traditional keyboards made of hundreds of components.
In the interview, he said he had had doubts that the first machines would be successful but the company had been "overwhelmed" by interest and demand once they had launched.
He said the machines had "spawned a generation" of coders that had helped to establish the UK's reputation as a creative, game-making powerhouse.
He added: "Sinclair products were born out of staggering innovation and clever shortcuts to get things into ever smaller packages at lower costs."
The drawing board on which Mr Dickinson designed the Spectrum is now in the Science Museum.
A graduate in industrial design from Newcastle Polytechnic, he joined Sinclair in 1979.
After leaving the company, Mr Dickinson set up an industrial design consultancy Dickinson Associates. Through the Cambridgeshire-based firm, he was involved with the design of the first Amstrad portable computers, early mobile phones and game consoles.
The first news of Mr Dickinson's death came via an email sent by his wife, Elizabeth, to family and friends, asking that it be sent on to all those might want to know of his passing.
A spokesman at Dickinson Associates confirmed he had died earlier this week.
The email said Mr Dickinson had been diagnosed with cancer in 2015, for which he had received successful treatment. However, it said, the cancer had returned last year.
Mr Dickinson had then travelled to the US for specialist care but had died suddenly between bouts of treatment.