Fake five-star reviews being bought and sold online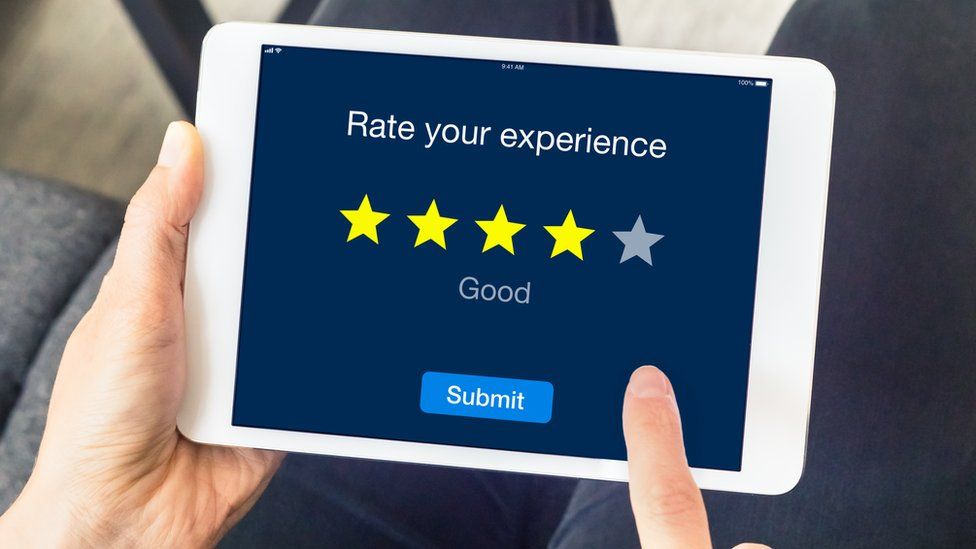 Fake online reviews are being openly traded on the internet, a BBC investigation has found.
BBC 5 live Investigates was able to buy a false, five-star recommendation placed on one of the world's leading review websites, Trustpilot.
It also uncovered online forums where Amazon shoppers are offered full refunds in exchange for product reviews.
Both companies said they do not tolerate false reviews.
'Trying to game the system'
The popularity of online review sites mean they are increasingly relied on by both businesses and their customers, with the government's Competition and Markets Authority estimating such reviews potentially influence £23 billion of UK customer spending every year.
Maria Menelaou, whose Yorkshire Fisheries chip shop is the top-ranked fish and chip shop in Blackpool on several review sites, said the system has replaced traditional advertising.
"It brings us a lot of customers ... It really does make a difference. We don't do any kind of advertising," Mrs Menelaou said.
While three quarters of UK adults use online review websites, almost half of those believe they have seen fake reviews, according to a survey of 1500 UK residents conducted by the Chartered Institute of Marketing and shared with BBC 5 live Investigates.
Some US analysts estimate as many as half of the reviews for certain products posted on international websites such as Amazon are potentially unreliable.
"Sellers are trying to game the system and there's a lot of money on the table," said Tommy Noonan, who runs ReviewMeta, a US-based website that analyses online reviews.
"If you can rank number one for, say, bluetooth headsets and you're selling a cheap product, you can make a lot of money," he said.
'5 star is better for us'
In 2016, Amazon introduced a range of measures prohibiting what it called "incentivised reviews", where businesses offered customers free goods in exchange for positive reviews.
Mr Noonan said this effectively drove the problem underground, leading to the emergence of Facebook groups where potential Amazon customers were encouraged to buy a product and post a review in return for a full refund.
BBC 5 live Investigates identified several of these groups and, within minutes of joining, was approached with offers of full refunds on products bought on Amazon in exchange for positive reviews.
"5 star is better for us" said one person making such an offer, in an exchange of messages with the BBC. "We value our brand, will refund you as we promised ... All my company do in this way."
It was not possible to identify the people making these offers, nor contact the businesses whose products they were seeking reviews for.
"We do not permit reviews in exchange for compensation of any kind, including payment. Customers and Marketplace sellers must follow our review guidelines and those that don't will be subject to action including potential termination of their account," Amazon said in a statement.
Responding to adverts posted on eBay, the BBC was also able to purchase a false 5-star review on Trustpilot, an online review website that describes itself as "committed to being the most trusted online review community on the market".
"Dan Box is one of the most respected professionals I have dealt with. It was a pleasure doing business with him," this review said - word for word as requested by 5 live Investigates.
Trustpilot, whose platform allows anyone to post a review, said they have "a zero-tolerance policy towards any misuse".
"We have specialist software that screens reviews against 100's of data points around the clock to automatically identify and remove fakes," the company said.
In a statement, eBay said the sale of such reviews is banned from its platform "and any listings will be removed".
5 live Investigates is on BBC Radio 5 live, 29 April at 11:00 GMT - catch up on BBC iPlayer Radio.
Have you got something you want investigating? We want to hear from you. Email us.